Sofa cum Bed or a sofa bed has become an important component of modern living room furniture. A living room sofa bed is essentially a sofa whose seat unfolds to form a bed. Sofa cum bed is a very functional living room furniture as it acts not only as a seating arrangement in living room bust also as a bed when need arises- and perhaps that's why it has got the name- Sofa cum Bed! A living room sofa bed can be transformed into a single bed or a double bed based upon its design that mostly has a unique hardware system and a hand-held router template. Today's compact living room designs have led sofa cum bed manufacturers to make such sofa bed designs that can fit in almost every type of room. Sofa cum bed is one of the most practical and stylish piece of living room sofas for either a small living room or a large one. In fact, these sleeper sofas are a great space saver along with being capable of bringing aesthetic appeal to living room decor.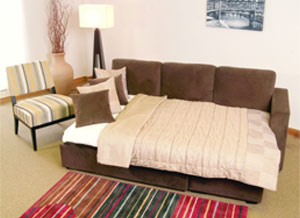 Types of Living Room Sofa Beds
Living room sofa cum bed types are mainly categorized acoording to their style and material. The various styles of living room sofa cum bed include:
Pull-out Sleeper Sofa Bed- The most common type of sofa bed is the pull-out sleeper sofa in which the bed and frame are folded into the base of the couch and hidden underneath the seat cushions. When bed is pulled out, the back and arms of the sofa cum bed form a headboard for the sleeper sofa bed.
Futon Sofa Bed- This type of sofa cum bed has a simple fold-down design. This living room sofa bed uses a one-piece design with the thick cushion upholstered to the frame. The back folds down forming a flat surface with the seat cushion. Sometimes, this type of sofa cum bed design has removable arms or no arms at all. In some of the futon style sofa cum bed, the back is doubled over, forming a larger bed when unfolded onto a supportive frame that slides out from the couch base.
Convertible Sofa BedConvertible Sofa Bed- A convertible sofa looks like a usual sofa but can be converted into not only a single bed but into a double bed and sometimes even into a bunk bed. For this to happen the convertible sofa cum bed uses a rather compex mechanism than the other types of living room sofa beds.
Types of Sofa Cum Bed Material- Types of living room sofa beds are also categorized on the basis of material used for making the sofa cum bed. The materials used in the frames of most of the sofa cum bed designs are usually metal and wood. Quality sofa cum bed frames are made from hardwood such as oak, alder, birch, maple, teak, plywood etc.
Source:
http://www.furnitureforlivingroom.com/sofa-bed.html