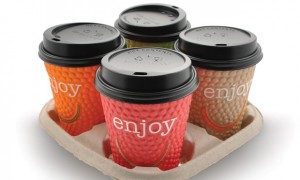 The new design is more rounded and less "engineered" while maintaining its rigidity and grip.
The pockets snugly fit all available standard cup sizes from 4oz to 22oz as well as water and juice bottles.
Additionally, Huhtamaki says the new Strongholder is a more compact product with reduced weight, lower profile and a smaller footprint.
Additionally, the design leads to compact stacking, taking up less room and maximising storage space.
Huhtamaki insists the carry trays are manufactured from 100% post-industrial recycled paper-board, and are 100% biodegradable and fully compostable.
Source:
http://www.packagingnews.co.uk/news/improved-tray-design-from-huhtamaki/