Admittedly, talking about the backing of a vinyl sheet floor isn't nearly as interesting as talking about the top layer, which features the design. In fact, as floor shoppers, most of us I'm guessing don't consider the backing of a floor at all when we're choosing a floor.
But here's why it's important, the backing of a vinyl sheet floor affects how your floor is installed. Armstrong makes vinyl floors with a fiberglass backing, vinyl floors with a felt backing, and vinyl floors with a 70% stone composite backing. For this post, we'll focus on floors with either a fiberglass backing or a felt back.
Fiberglass-backed floors are installed in either a modified loose-lay installation or a fully adhered installation. Felt-backed floors are only installed as a fully adhered installation*.
Comparing Fiberglass Vinyl to Felt-Backed Vinyl
The uppermost layers of both fiberglass vinyl and felt-backed vinyl are similar – with different performance levels of the CleanSweep? layer that resists stains, scuffs, and scratches, and the MasterWorks Technology? design layer. It's the different bottom layers that determine the installation method.
Traditional felt-backed vinyl requires permanent glue to adhere to the subfloor, while fiberglass backing is installed as a loose lay or modified loose lay – meaning you use a releasable glue (or no glue in some instances) that is not permanent and can be pulled up and laid back down if necessary.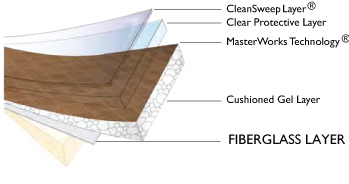 Also, the unique qualities of fiberglass enable the vinyl floor to lay flat without curling at the edges or buckling. Felt floors will curl at the edges, unless they are secured with a permanent adhesive.
Fiberglass vinyl floors can be installed on grade or below grade anywhere in your home. They're particularly recommended for basements that can experience dampness.
Another important feature related to backing is dimensional stability. Fiberglass vinyl won't shrink, warp, or change size after exposure to wetness, or crack after repeated handling.
Modified Loose-Lay Offers Design Flexibility
A modified loose-lay installation opens up many decorating options. It also makes it easier to install a new floor yourself if you're a DIYer – and it allows you the freedom to change out your floor more frequently.
Learn more about vinyl sheet flooring construction and installation.
*Certain products can be perimeter bonded. See full installation instructions for more details.
Kim Lefever, Social Media Manager, is responsible for Armstrong's global social media program. She is also an administrator for all of Armstrong's residential social accounts. In addition, she works as a copywriter and content strategist for Armstrong. When not at her keyboard, she's usually found with her nose in a book or tending to her backyard goats and chickens!
This entry was posted on Friday, May 17th, 2013 at 4:14 pm and is filed under Uncategorized. You can follow any responses to this entry through the RSS 2.0 feed. You can skip to the end and leave a response. Pinging is currently not allowed.
Source:
http://www.armstrong.com/flooring-blog/2013/05/17/why-the-backing-on-a-vinyl-sheet-floor-matters/