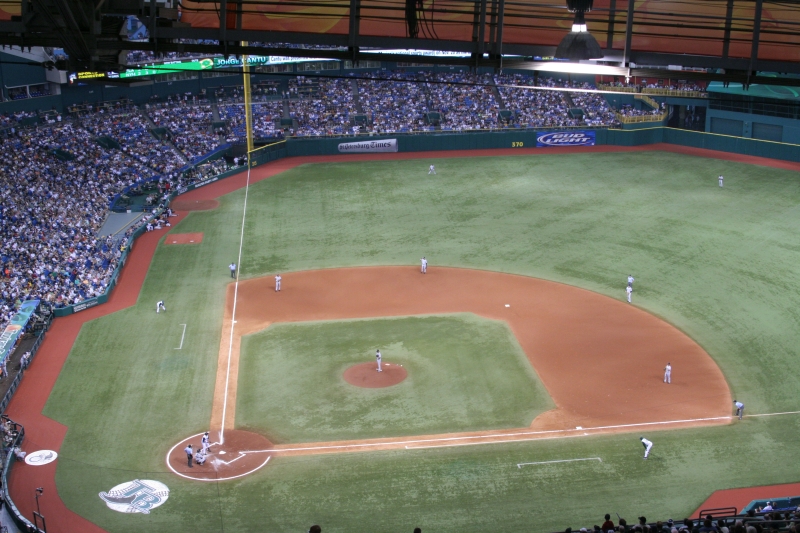 Baseball
Artificial turf was first used in Major League Baseball in the Houston Astrodome in 1966, replacing the grass field used when the stadium opened a year earlier. Even though the grass was specifically bred for indoor use, the dome's semi-transparent Lucite ceiling panels, which had been painted white to cut down on glare which bothered the players, did not pass enough sunlight to support the grass. For most of the 1965 season, the Astros played on green-painted dirt and dead grass.
The solution was to install a new type of artificial grass on the field, ChemGrass, which became known as AstroTurf. Because the supply of AstroTurf was still low, only a limited amount was available for the first home game. There wasn't enough for the entire outfield, but there was enough to cover the traditional grass portion of the infield. The outfield remained painted dirt until after the All-Star Break. The team was sent on an extended road trip before the break, and on July 19, 1966, the installation of the outfield portion of AstroTurf was completed. Groundskeepers dressed as astronauts kept the turf clean with vacuum cleaners between innings.
Artificial turf was later installed in other new "cookie-cutter" stadiums such as Pittsburgh's Three Rivers Stadium, Philadelphia's Veterans Stadium, and Cincinnati's Riverfront Stadium. Early AstroTurf baseball fields used the traditional all-dirt path, but in the early 1970s, teams began using the "base cutout" layout on the diamond, with the only dirt being on the pitcher's mound, batter's circle, and in a "sliding box" around each base. With this layout, a painted arc would indicate where the edge of the outfield grass would normally be, to assist fielders in positioning themselves properly.
The biggest difference in play on artificial turf was that the ball bounced higher than on real grass, and also travelled faster, causing infielders to play farther back than they would normally, so that they would have sufficient time to react. The ball also had a truer bounce than on grass, so that on long throws fielders could deliberately bounce the ball in front of the player they were throwing to, with the certainty that it would travel in a straight line and not be deflected to the right or left. However, the biggest impact on the game of "turf", as it came to be called, was on the bodies of the players. The artificial surface, which was generally placed over a concrete base, had much less give to it than a traditional dirt and grass field did, which caused more wear-and-tear on knees, ankles, feet and the lower back, possibly even shortening the careers of those players who played a significant portion of their games on artificial surfaces. Players also complained that the turf was much hotter than grass, sometimes causing the metal spikes to burn their feet, or plastic ones to melt. These factors eventually provoked a number of stadiums, such as Kauffman Stadium in Kansas City, Missouri, to switch from artificial turf back to natural grass.
In 2000, St. Petersburg's Tropicana Field became the first MLB field to use a softer artificial surface, FieldTurf. All other remaining artificial turf stadiums were either converted to FieldTurf or were replaced entirely by new natural grass stadiums. In just 13 years, between 1992 and 2005, the National League went from having half of its teams using artificial turf to all of them playing on natural grass. With the replacement of Minneapolis's Hubert H. Humphrey Metrodome by Target Field in 2010, only two MLB stadiums, both in the American League East, are still using artificial turf: Tropicana Field and Toronto's Rogers Centre, which converted to a next generation AstroTurf in 2010. MLB also schedules some games to be played in Hiram Bithorn Stadium in San Juan, Puerto Rico, which also has an FieldTurf installation, but one which plays faster than those in St. Petersburg and the old field in Toronto.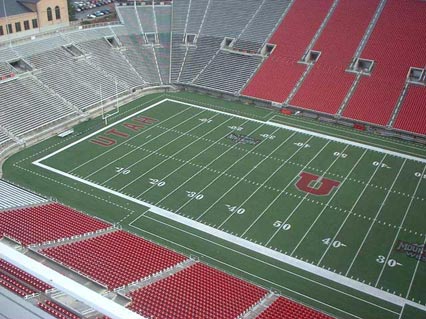 American football
In 1969, Franklin Field, the gridiron stadium of the University of Pennsylvania, Philadelphia, Pennsylvania, switched from grass to artificial turf. Also home of the Philadelphia Eagles, it was the first National Football League stadium to use artificial turf. In 2006, Gillette Stadium, the football stadium of the New England Patriots and the New England Revolution, switched from grass to FieldTurf due to the conflict of poor weather and hosting many sporting and musical events at the stadium. It is one of 13 National Football League stadiums that have turf instead of grass fields; the Patriots, Giants and Jets (who share a stadium) and Bengals actually switched from AstroTurf to natural grass before reverting to a next-generation artificial surface.
All eight stadiums in the Canadian Football League currently use artificial turf, due to that country's northern climate.
The XFL, in its short life, outlawed the use of artificial turf, requiring all of its teams to play in stadiums with natural grass surfaces. The move, made in part to reduce injuries, was also a ploy to give the league a more authentic, "smash-mouth" appeal. The league also scheduled all of its games, however, in the winter, when grass does not typically grow as well in the northern United States; the New York/New Jersey Hitmen and Chicago Enforcers' home fields were visibly damaged with heavy bare spots by the end of the league's lone 2001 season.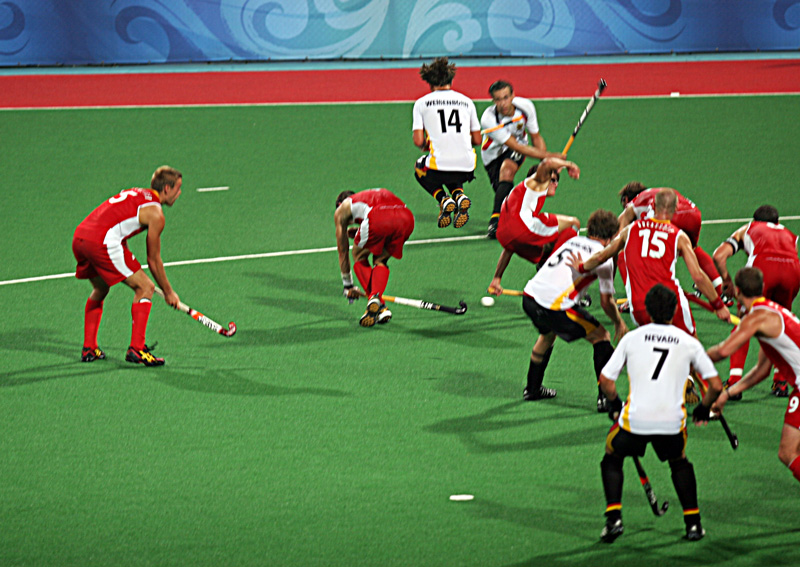 Field hockey
The introduction of synthetic surfaces has significantly changed the sport of field hockey. Since being introduced in the 1970s, competitions in western countries are now mostly played on artificial surfaces. This has increased the speed of the game considerably, and changed the shape of hockey sticks to allow for different techniques, such as reverse stick trapping and hitting.
Field hockey artificial turf differs from football and gridiron artificial turf in that it does not try to reproduce a grass 'feel', being made of shorter fibres similar to the ones used on Dunfermline's field. This shorter fibre structure allows the improvement in speed brought by earlier artificial turfs to be retained. This development in the game is however problematic for many local communities who often cannot afford to build two artificial fields: one for field hockey and one for other sports. The FIH and manufacturers are driving research in order to produce new fields that will be suitable for a variety of sports. Prior to the introduction of this playing surface India and Pakistan dominated field hockey for decades. Apart from the major cities in these countries, this surface is unaffordable to the mass of players. The use of astro turf in conjunction with changes in the game's rules (e.g. allowing of body-blocks) have contributed significantly to changed the nature of the game, affected it's artistry and allowed other nations - mostly western - to now get to the top of the world rankings.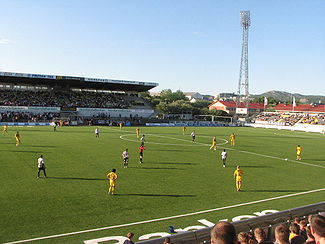 Football
Some football clubs in Europe installed synthetic surfaces in the 1980s, which were called "plastic pitches" (often derisively) in countries such as England. In England, several professional club venues had adopted them; QPR's Loftus Road, Luton Town's Kenilworth Road, Oldham Athletic's Boundary Park and Preston's Deepdale. QPR had been the first team to install an artificial pitch at their stadium in 1981, but were the first to remove it when they did so in 1988. The last team to have an artificial pitch in England was Preston North End, who removed their pitch in 1994 after eight years in use.
Turf gained a bad reputation on both sides of the Atlantic with fans and especially with players. The first Astro turfs were a far harder surface than grass, and soon became known as an unforgiving playing surface which was prone to cause more injuries, and in particular, more serious joint injuries, than would comparatively be suffered on a grass surface. This turf was also regarded as aesthetically unappealing to many fans.
In 1981, London football club Queens Park Rangers dug up its grass pitch and installed an artificial one. Others followed, and by the mid-1980s there were four artificial surfaces in operation in the English league. They soon became a national joke: the ball pinged round like it was made of rubber, the players kept losing their footing, and anyone who fell over risked carpet burns. Unsurprisingly, fans complained that the football was awful to watch and, one by one, the clubs returned to natural grass.
In the 1990s many North American football clubs also removed their artificial surfaces and re-installed grass, while others moved to new stadiums with state-of-the-art grass surfaces that were designed to withstand cold temperatures where the climate demanded it. The use of turf was later banned by FIFA, UEFA and by many domestic football associations, though, in recent years, both governing bodies have expressed resurrected interest in the use of artificial surfaces in competition provided that they are FIFA Recommended. UEFA has now been heavily involved in programs to test turf with tests made in several grounds meeting with FIFA approval. A team of UEFA, FIFA and German company Polytan conducted tests in the Stadion Salzburg Wals-Siezenheim in Salzburg, Austria which had matches played on it in UEFA EURO 2008. It is the second FIFA 2 Star approved turf in a European domestic top flight, after Dutch club Heracles Almelo received the FIFA certificate in August 2005. The tests were approved.
Source:
http://en.wikipedia.org/wiki/Artificial_turf