In their earliest medieval incarnation, chandeliers were little more than two wooden cross beams with stakes on the ends for mounting candles. As they evolved, chandeliers became grandiose and opulent works of art displayed by the wealthy and upper classes. Today, chandeliers exist in a vast assortment of styles and forms that can be enjoyed by all. They range from classic crystal fixtures to casual, modern pieces, and can bring beautiful and elegant lighting to nearly any setting. Artisans continue to innovate and redefine chandeliers within the rich and ever expanding world of interior design.
General Considerations
Chandeliers provide ambient and general light. Their function is primarily decorative, and desired lighting levels are often achieved by incorporating complementary fixtures into the room, such as wall sconces and table lamps.
A general rule of thumb to follow is approximately 200-300 watts for a chandelier, and 75 watts for other fixtures. This helps maintain an ambient, central light source, while cutting down on potential glare and shadows. Shades and dimmers can significantly reduce glare as well.
When choosing a chandelier, especially one with many lamps, it is preferable to select one that uses standard, easily replaceable bulbs, as replacements for some specialized bulbs can be difficult to find. 60 watts is the standard for bulbs in smaller fixtures with fewer sockets. For chandeliers featuring a larger number of lights, 25 to 40 watt bulbs are recommended.
With any hanging fixture, dust can be a major concern. Keep in mind that simpler designs are usually easier to clean, while chandeliers with complex filigree or many angled surfaces require considerably more maintenance.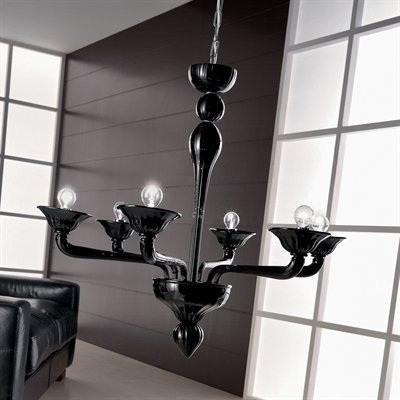 What Size is Best?
When selecting a chandelier, first consider the size of the room. There are three general sizes of chandelier.
Mini chandeliers measure 20 inches or less in diameter. They are designed to hang over kitchen islands, and in bathrooms, bedrooms, dressing rooms, or small dining areas.
Medium chandeliers measure up to 36 inches in diameter. They are ideal for use in dining rooms, bedrooms, and small foyers.
Foyer chandeliers range from 36 inches in diameter to much larger. They often have multiple tiers, and are best suited for very large rooms and halls.
There are other dimensions than diameter to consider, however.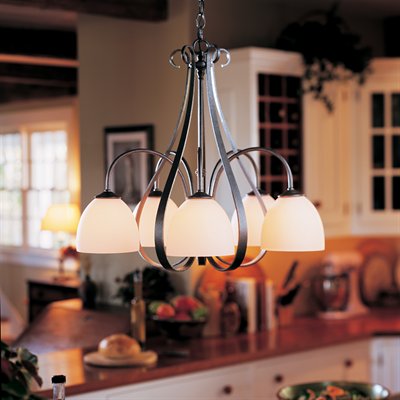 Appropriate Height
When hung over a table in an 8 foot ceiling install, the bottom of the chandelier should hang approximately 30 inches above the table surface. This provides adequate headroom while maintaining good illumination. The height of the fixture should measure about 3 inches per each foot of ceiling height. For example, a 24" high chandelier would be well suited for an 8 foot ceiling.
When hung in a foyer or other large room, the fixture should rest at least 9 feet above the floor. The fixture width should equal one inch per foot of the room's width (measured diagonally). Its height should be about 3 inches per foot of ceiling height. In rooms with high ceilings, consider a two or three-tiered design to fill the space.
Style To Spare
Chandeliers can be found in myriad styles and forms, from opulent crystal fixtures to streamlined modern chandeliers. When choosing a style, consider the room's decor and dominant finishes. Where a crystal chandelier would well suit a formal dining room, a more modern or casual home might be better by a contemporary fixture in a sleek metal finish.
The rich volume of time-honored styles that comprise antique chandeliers vary from traditional crystal pieces to widely recognized Williamsburg "Candle" chandeliers. These fixtures are frequently crafted of brass or wrought iron. While beautiful, an antique chandelier can look out of place in a decidedly modern environment.
Contemporary chandeliers are ideal in a decidedly modern environment. They offer simple, sleek designs that may include spindly arms, geometric shades, and chrome or satin nickel finishes. For outdoor-themed settings like a lodge or log-cabin style house, rustic chandeliers are perfect ambient centerpieces.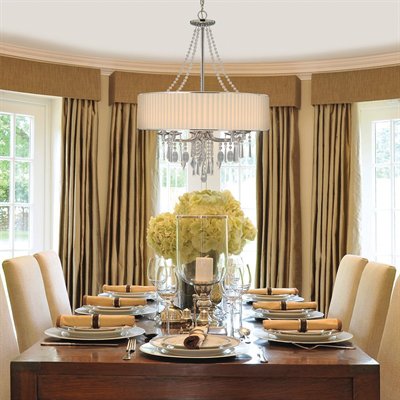 Select Substance
Knowledge of the materials from which your chandelier is made is important, as understanding the required maintenance and care for a given fixture can help determine if it is the right choice for you.
Crystal chandeliers can be comprised of pure crystal, or crystal framed in silver, gold, or other decorative materials. In general, silver is considered to blend best with crystal, but this can be largely dependent upon aesthetics and personal preference. There are a number of types and qualities of crystal from which to choose.
Beaded or shell chandeliers are an attractive alternative to crystal. These fixtures augment or replace crystals with pearls, shells and other ornaments. This style can tone down the formality of a room and significantly reduce the weight of the chandelier itself.
Wrought iron chandeliers are extremely durable and are generally left unadorned. Designs range from stately and traditional to modern, geometric forms. In the past, "wrought iron" specifically referred to an actual piece of solid iron, hand worked by craftsmen. Today, the term is sometimes used to describe the finish color alone, so it is important to pay close attention to the actual materials used. The quality and longevity of real iron are unparalleled, and iron fixtures are very easy to maintain – just soap and water and occasional polish if desired. Economy chandeliers tend to be made of less expensive metals, such as mild steel, that mimic the look of wrought iron.
Brass chandeliers are naturally anti-corrosive and ideal for coastal regions. Quality solid brass chandeliers are made from individual cast pieces, hand-fitted, then adorned with glass or crystal accents. Brass needs regular polishing to maintain its luster. A soft, dry cloth is best for this task. Use water and soap sparingly, and always be sure to dry the fixture as soon as possible. Never use ammonia-based cleaning solutions.
Steel-plated brass chandeliers are can tarnish or rust, unlike solid brass. Rust requires steel wool to remove. A good household indicator to test the quality of brass is a magnet: Steel-plated brass is magnetic, whereas solid brass is not.
Murano and blown glass chandeliers can be formed into curvaceous, tubular forms ideal for contemporary setting. They may feature floral motifs or other decorative accents. Murano glass comes in many vibrant colors and offers a dynamic choice for ambient lighting. Blown glass chandeliers can be costly due to their handmade construction.
Rustic chandeliers that feature an antler motif can be made from discarded deer antlers, or synthetic cast-resin imitations. Rustic pine chandeliers are frequently made of caster fiber with a timber slice finish, and may have a metallic base. High quality rustic fixtures may even feature wrought iron armature. Shades may be of buckskin leather or a synthetic look-alike.
The styles to choose from when selecting a chandelier are countless, so with careful selection it is possible to find the perfect chandelier to best complement any environment.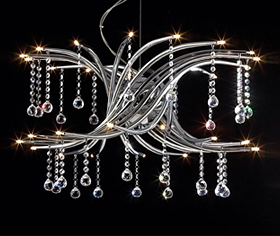 Source:
http://www.lightinguniverse.com/articles/Chandelier-Buyers-Guide_a384.html