Everything you need to know about opening an eBay store
Let's face it, eBay has been around for decades, and it isn't going anywhere. Last week we discussed how to become an Amazon FBA seller. Now that your Amazon business is on autopilot, let's get your eBay store up and running.
First You Have To Find the Right Product
Discovering clever products that everybody wants is the goal of every online retailer. The more time you can spend thinking deeply about the products you want to sell, the more successful you will be.
The best way to start is to search for Chinese wholesale manufacturers that produce products within your niche.
What is your niche? Are you a sporting goods retailer? Are you a medical supply retailer? Selecting a profitable niche will open the doors to an endless number of product options.
Evaluating the Best Chinese Supplier
How do you know which Chinese supplier is the best. Undoubtedly, you have seen dozens of manufacturers and suppliers selling the same goods, at almost the same prices. This may be the case, however, the quality of their products will not be the same. Consider using a third party quality assurance service.
If you are not in China, the best thing you can do is hire a Chinese third party service to personally check the quality of products a factory produces. They can also pre-check your shipment before it leaves the warehouse.
This tactic has the potential to save you endless hours of frustration and potentially thousands of dollars.
Only Shop For Chinese Products From Verified Sources
Chinese manufacturers who offer their goods in Made-In-China.com are vetted and verified as legitimate. You have a better chance of securing quality products from Chinese suppliers here than anywhere else.
In addition to the sellers being verified, they also have their reputation at stake. Knowing which type of supplier you are dealing with is also good to know. You will find the following types of Chinese suppliers:
● Manufacturers
● Trading Companies
● Sourcing Companies
● Authorized Retailers
Knowing who you are dealing with will help you make a final decision. Typically manufacturers have a reputation to uphold and are more likely to deliver quality goods. If you have a choice, always try to deal directly with manufacturers.
Shipping your Bulk Chinese Goods
We recommend that you use FedEx or UPS as a shipping courier. Why FedEx and UPS you might wonder? Their customs clearing times and processes are generally faster than DHL. This is ideal for online retailers that may be in a hurry to restock. For exact shopping costs, you can simply ask your Chinese supplier for a quote.
For even faster shipping times, you can request to have your Chinese wholesale goods shipped express. The price will generally be higher; however there is an opportunity to find discounts. Ask your Chinese supplier if they work with an express shipping agent or not. If so, you may discover the express price is quite manageable.
Now that you have your chinese products, how do you offload them for a profit?
Be an eBay private seller first before you open an eBay store
We recommend that you first get used to the eBay platform as a private seller. This will help you get over the eBay learning curve. In fact, opening an actual eBay store won't be a profitable business move unless you are already generating about $500-$1000 dollars in revenue as an eBay private seller.
Once you qualify to upgrade from a private seller to an eBay store, you will hopefully already have:
● A working knowledge of the eBay system
● A few dozen product reviews from happy customers
● No more new seller eBay restrictions
It can take you anywhere from 3-6 months to properly establish a position where it makes sense to upgrade to an eBay store. Some sellers will reach this point faster than others.
EBay private seller fees and listing fees
How will you know it's time to upgrade to an eBay store? It's all about the money! Right around the time you have more than 200 product listings, and over $500 a month of eBay income, it's time to upgrade. Here's why!
As a regular seller, you receive 50 free product listings, and the cost is $0.30 per product after that. Therefore, listing 200 products would cost you $45/month in listing fees. (150 products x $.30).
At this point, it makes sense to opt for an upgraded eBay store where you pay a fixed price for listing your products. You also will get more control over what your store looks like, and a chance to design your online brand. Take a look at this chart that compares the eBay fee structures .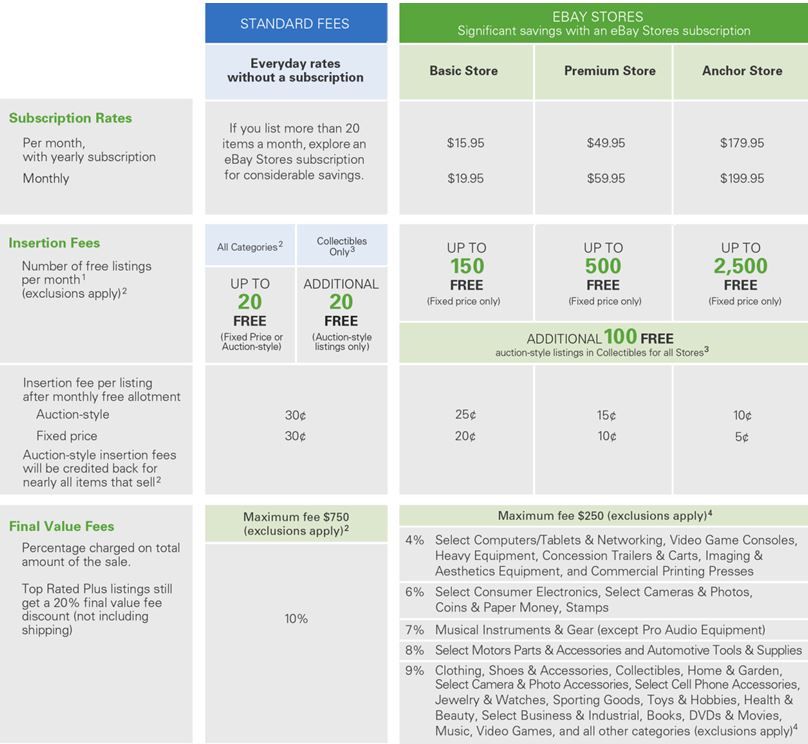 After qualifying to open a store, choose your desired subscription plan
At this point, you realize that you can save on listing fees by upgrading from a private seller to an eBay store. The next step is choosing which type of store subscription you want to go for. In order to maximize your savings, you want to consider how many free listings each plan offers you.
Try to think forward and imagine how many products you will want to list in the future. As your business grows, you will list more and more products. Anticipating how many products you plan on selling will help you select the most appropriate plan.
Select Your Store Name
You want to spend some significant thought energy on thinking of a catchy store name. When it comes to writing copy like your store name, product titles, product descriptions, and other informational content, you need to consider the psychological effect of good writing.
Catchy slogans, and quirky product descriptions can help draw in customers and convert them into buyers. Remember to always consider the needs of your customers when thinking of a store name. Something that addresses your target markets pain points and needs will help you relate better with potential buyers.
Utilize the Proper Product Categories
Labeling your products in the proper category will make it easier for customers to find you. A product category that may seem obvious to you may not be used by your customers to search for a product. For example, if you are selling holiday clothes, that will have two different meanings for some shoppers. It could mean vacation clothes, or Christmas clothing.
Do some research into your competitors and see what categories they are listing their products in. This will help you make the right choice of category for your products.
Utilize email newsletters to upsell your buyers
When you make a sell on your eBay store, remember to get your customers email address. Sending out weekly newsletters is a great way to stimulate up sells. If a customer has bought from you in the past, you have a great chance of selling them additional products.
Simply put together weekly emails that contain a discount code for previous customers to use on certain products. Make sure you set a deadline on the promotion to create urgency. This will help move more of your Chinese wholesale products at a faster rate.
Take Great Care In Modifying The Other 10 Editable Store Available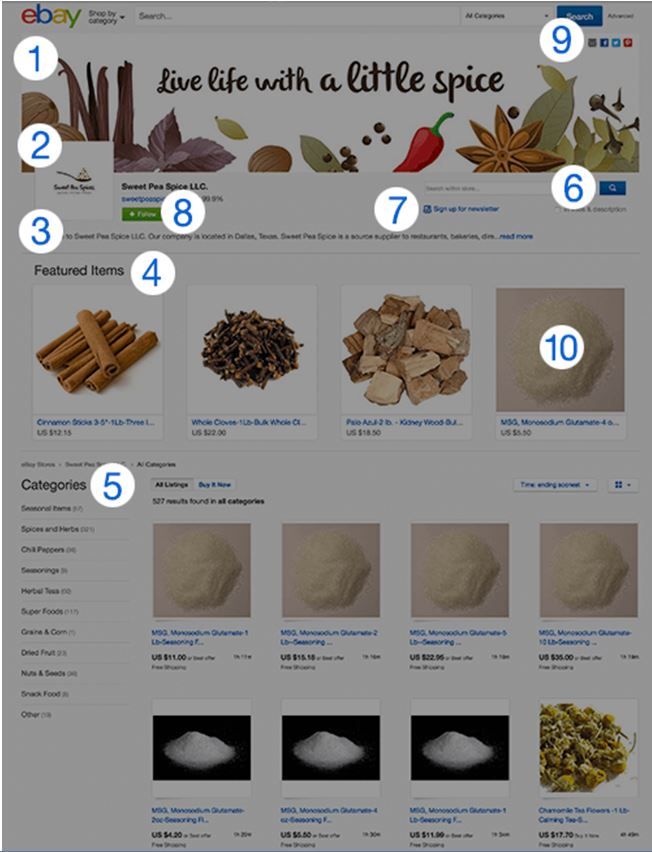 EBay gives you 10 options of editable sections in your store. Make sure you use them all to the best of your ability. These sections are:
● Billboard image
● Store Logo
● Store Description
● Features Items
● Categories
● Store Search Box
● Newsletter Sign-Up
● Follow Button
● Share Button
● Larger Photos Section
Make sure you think in advance about each one of those sections. If you aren't the best graphic designer, there are plenty of affordable services that can help you create things like attractive logos and photos.
Consider Branding Your Products
A great way to set yourself apart from the competition is to brand your Chinese wholesale products. This will help your customers notice a recognizable difference between other similar products in the market. Studies have shown that buyers feel more comfortable buying branded products over generic counterparts.
Think diligently about what your consumers are interested in. For example, if you are selling Chinese gaming laptops, your brand should help buyers feel power, speed, and victory. Take pictures which depict your products being used in a professional gaming environment. Often times, it is very easy to book an hour or two in a location to take quality photos.
Promotion Outside of eBay
This is a powerful tool that will help you bring in your own customers. As your eBay store heats up, now will be a great time to practice on building your own marketing skills.
The better you become at marketing your products, the less you can rely on eBay. As you become more proficient as a marketer, you can begin sending your hard earned web traffic to your own personal website for even greater profits.
Influencer Marketing
Influencer marketing is a tried and tested method of stimulating sales for online products. To begin discovering quality influencers to promote your Chinese wholesale products, you can use a tool like Ubersuggest by Neil Patel.
This is a free tool that will help you identify which influencers have the highest web traffic, social shares, and overall domain statistics.
Content Marketing in 2019
Content is king. This is true now more than ever. Creating highly intriguing articles about your products will help to generate a buzz around your eBay store. Great content is only half the battle.
After you create a wonderful piece of content, you have to promote it on social channels, guest websites, paid ads, and anywhere else you can. Make sure to use your product keywords and optimize your content for SEO to gain even more readers.
Use eBay Affiliate Links to Cross-Sell Additional Products in Your Content Marketing Strategy
A helpful tip to maximize your earnings is to place affiliate links to non-competing eBay products in your content. If someone isn't interested in what you have to offer, they might be interested in your affiliate links.
For example, if you are promoting your own branded Desktop Computers made in China, you can use affiliate links for security software to increase your revenue potential.
Cardinal Rules For Achieving Success On eBay
Follow these cardinal rules to ensure you make the most out of your eBay account.
Reinvest your earnings into a large selection of Chinese goods
Once you start earning cash, resist the urge to spend it on yourself. Chinese wholesale Products will provide you with an incredible profit margin. Therefore for the first 6 months to one year, it is advisable that you reinvest all your earnings into growing your store larger and larger.
Always Have Your Chinese Goods In-stock Before Listing Them
To avoid any shipping delays or negative reviews, always make sure to have your Chinese products in-stock before creating a listing. You may be eager to get started and create your listings as soon as possible. However, it is advisable that you wait until you receive your products from China before listing them on eBay.
Never Forget To Ship Your Products On Time, It Could Negatively Impact Your Earnings
Product reviews and ratings are going to be the lifeblood of your eBay store. Even one negative review can deter potential customers from making a purchase. Everyone is concerned with being that one person that gets a bad product or a delayed shipment.
For this reason, it is always a good idea to make everyone of your customers happy by going above the bar. This can include shipping their order ahead of schedule, including a small gift as a token of your appreciation, or even adding a personalized thank you note to every order.
These small details that don't cost you that much will go a long way in your eBay career as a Chinese product reseller.