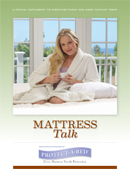 While a majority of consumers currently own an innerspring sleep set, consumer satisfaction levels are much higher with specialty sleep sets. Those insights come from a Furniture/Today and Apartment Therapy Bedding Survey that offers a snapshot of bedding opinions held by consumers across the country. The two companies teamed up to take the pulse of consumers on a variety of mattress topics.
The findings on mattress preferences suggest that a significant shift could be occurring in the market. The specialty sleep category is already the fastest growing segment, but this new survey data reveals significant unhappiness with innerspring sleep sets.
This exclusive report presents the types of mattresses consumers currently own; the age of their current mattress; the kind of night's sleep consumers get with their current mattress; the most important features when choosing a new mattress; why consumers love their mattress; the types of retailers consumers are most likely to shop for a mattress; and the mattress type consumers will most likely buy next.
Furniture/Today partnered with New York-based Apartment Therapy to ask consumers about mattresses and mattress accessory products. The online survey posted on Apartment Therapy's site and garnered responses from 540 consumers. Founded in 2004, Apartment Therapy currently reaches more than eight million unique readers online each month.
For the complete report, see the January 28, 2013 print issue of Furniture Today or click here for the exclusive online version.
Source:
http://www.furnituretoday.com/article/559731-Furniture_Today_s_Mattress_Talk.php