Switzerland based high tech textile instruments producer, Uster has called its participation at the recently concluded ShanghaiTex 2015 a multi faceted success.
An Uster press release said that important contracts were concluded and new deals initiated, while visitor numbers at its booth were up 7 per cent from the previous edition, despite rains in Shanghai during the show.
"The show is characterised by a strong emphasis on Chinese visitors, who this year made up 95 per cent of the visitors at the Uster booth," it added.
"This profile enabled Uster to identify some clear trends in China's textile manufacturing sector, the most prominent being a new focus by spinning mills on reducing contamination," it explained.
The Uster booth was presented in the form of islands, each highlighting a particular application, with a total of 13 latest Uster instruments on view.
Walter Kiechl, the new COO of Uster Technologies in China said, "We were busy throughout the three days of the show, with visitors showing special interest in our fibre cleaning system."
"The Uster Jossi Vision Shield attracted the high attention and our statistics showed that more than a third of visitors expressed serious interest in this instrument and our Total Contamination Control system," Kiechl added.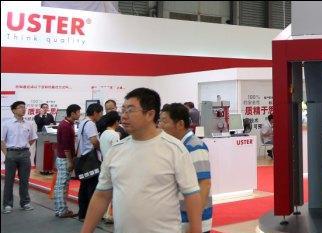 Anson Xu, general manager for sales & service at Uster China said, "Compared with ShanghaiTex 2013, significantly more visitors were obviously keen to invest in the quality management of their spinning mills."
According to Uster, a spinner in Shandong, signed a contract for one each of Uster Afis Pro 2, Uster Tester 5, Uster Ensojet 4, Uster Classimat 5, Uster Zweigle Hl400 and an upgrade for the Uster Quantum 3 yarn clearer.
Walter Kiechl informed that Uster's expectations for ShanghaiTex 2015 were met in terms of visitors, sales leads and contracts and, equally important, in identifying market development trends.
"The interest in the UsterJossi Vision Shield and Uster's Total Contamination Control concept is a good indication that contamination is a serious concern for spinning mills in China," he observed.
The Uster Group is a high-technology instrument manufacturer of products for quality measurement and certification for the textile industry.
The Group provides testing and monitoring instruments, systems and services that allow optimisation of quality through each individual stage of textile production.
This includes raw textile fibres, such as cotton or wool, all staple fibres and filament yarns, as well as downstream services to the final finished fabric.
The Uster Group provides benchmarks that are a basis for the trading of textile products at assured levels of quality across global markets.
Source:
http://www.fibre2fashion.com/news/textile-news/newsdetails.aspx?news_id=173356