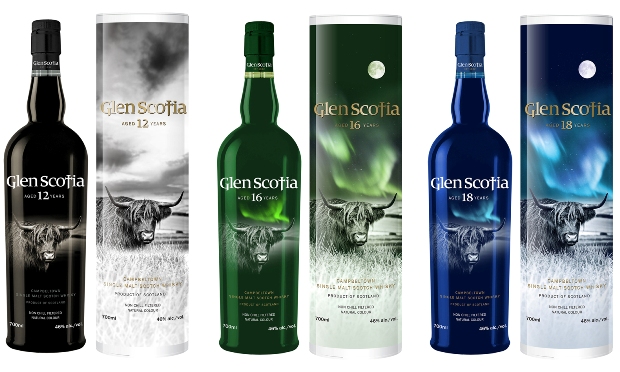 Produced in Carlisle, UK, these collectable tins designed for Glen Scotia Campbeltown and Inchmurrin single malt Scotch whisky ranges depict subtle, graphical images of the stunning Scottish Highlands, delicately crafted with intricate patterns that celebrate the local heritage of the world-renowned Scottish brands.
Adorned with an image of the iconic highland cattle, the Glen Scotia cylindrical tins pay homage to Scotland's idyllic scenery. Metal is the ideal canvas to bring to life such unique designs.
The picture of a barley field under a glistening full moon and the stylish depiction of the aurora borealis are artfully represented with a high-gloss finish, enhancing the vibrancy of the nocturnal landscape.
Crown has also developed traditional decorated tins for the four designs of the Inchmurrin single malt Scotch whisky range. A mix of grey, white and black hues in variation across the packaging portray a serene nocturnal setting in the Highlands.
The metal tin design reproduces, in a high-gloss finish, Scottish wildlife and symbolic silhouettes, juxtaposed against the embossed golden brand name.
Developed in a taller format, Crown said the packaging stands out on store shelves, enticing customers to select this impressive container.
The tins are available in four colours – black, grey, white and gold – corresponding to the four ages of the Inchmurrin single malt Scotch whisky: 12, 15, 18 and 21 years respectively.
Source:
http://www.packagingnews.co.uk/design/crown-designs-premium-tins-glen-scotia-inchmurrin-whisky/