Sulzer is to supply main feedwater pumps and start-up feedwater pumps for two Hualong No 1 nuclear reactors in China, owned by China Nuclear Power Engineering Co Ltd (CNPEC).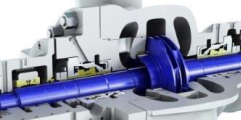 The Sulzer contract includes six high-efficiency main feedwater pumps (HPTd), six booster pumps (HZB), as well as two start-up feedwater pumps (GSG).
The pumps will be installed in the Fangchenggang power plant, which is located in the Guangxi Zhuang Autonomous Region in China.

Sulzer Suzhou, China will undertake the manufacturing, testing, packaging, installation supervision and commissioning.

Equipment delivery will be completed by the end of 2019.
Source:
http://www.worldpumps.com/view/44580/sulzer-to-provide-feedwater-pumps-for-chinese-nuclear-reactors/