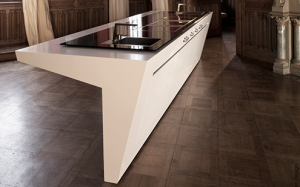 Paxmann plans and produces kitchen basically individual – far away from standard sizes. Also with regard to the materials the Bonn-based manufacturer know nearly no limits: stainless steel, aluminum, wood, glass, mineral-based material, granite, concrete to name just a few. The limits are just set by material static, physics and building codes.
Where series manufacturers are constrained by their limits, Paxmann.Design wants to go one step further. Owner Cornelius Paxmann accepts nearly no limits in his designs – except those set by physics and practicalities. He demands much of the material that he uses for his kitchen furniture, which is why he often chooses the mineral-based material HI-MACS.
It allows to combine form and proportion with technical and electronic devices. This is showcased by the 360cm seamless run of kitchen units that Paxmann.Design made for one of its customers. The design appears to have pushed at the limits of physics and confounded the laws of gravity with the carcass of the long unit seemingly hovering on the side of an angle. The futuristic shape is favored by the simple processing of HI-MACS, which hardly sets the range of possible forms and variations limits.
The flush-fitting hob modules also seem to defy physics, as they conceal extraction units integrated in the work surface which removes the cooking odours. The carcass consists entirely of the mineral-based material, the floating work surface is made of special glass coloured black. Sinks and fittings are also designed by Paxmann.
The slim base of the furniture provides unexpectedly generous space for kitchen utensils. The drawers have no handles and close fully automatically at a light touch with electric drives. Smooth and non-porous, the acrylic stone is, according to the manufacturer, easy to clean, resistant to heat and chemical household cleaners.
Source:
http://www.furniture-magazine.com/news/article/new-kitchen-design-series-cornelius-paxmann/