Ali music's Ali planet today in Apple's Store App store shelves a new version of 9.6.0, quietly between the complete removal of the music service, so as to transform the interactive platform for pure fans star entertainment.
Ali star's predecessor, mobile music application is once famous ttpod.
In 2015, Alibaba was acquired by everyday sounds, small shrimp music merger reorganization as Ali music, the music professional musicians go small shrimp line, the main public users every day sounds.
In April 15th of this year, every day beautiful formal revision for Ali planet,Including music player, fans social, live, and many other features, while attracting Song Ke, Gao Xiaosong, He Jiong joined Ali music.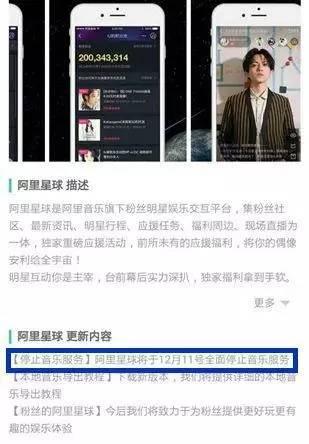 Because change is too large, in addition to the music service to join too many entertainment and social functions, causing a huge controversy, the official even once empty Store App stores in the comments and ratings.
Now after further revision, Ali planet has been completely invisible once every day sounds of the shadow, and the music player related to the complete insulation.
Source:
http://www.bestchinanews.com/Science-Technology/7570.html