US-based beer company New Belgium Brewing has unveiled two new gluten-reduced ales - Glütiny Pale Ale and Glütiny Golden Ale, providing healthier options to craft beer enthusiasts.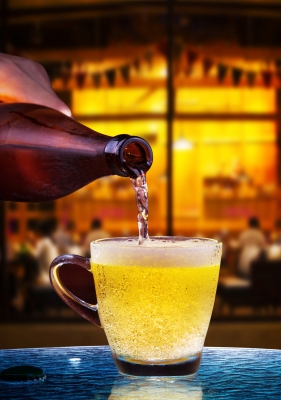 The two beers will be made available in new Belgium starting mid-January 2016.
The Glütiny Golden Ale comes with Nugget, Goldings and Cascade hops and is dry-hopped again with Cascade. The bright hops offer a subtle grapefruit, herb-like notes to the bready-sweet malts. Oats adds a layer of smoothness. At 5.2% ABV and 20 IBUs, Glütiny Golden Ale is a flvaoursome ale which begins on a sweet note and ends crisply.
Glütiny Pale Ale contains heavy dose of Equinox hops which offers guava, papaya, and stone fruit flavours lending sweet and slightly toasty malt taste. It is topped with more hops such as chinook, cascade and crystal. At 6% ABV and 30 IBUs, the beer begins with a sweet flavour which moves into giving a balanced bitter taste with a juicy feel and crisp finish.
The two beers were made using an enzyme to break down the proteins which produce a reaction from gluten-sensitive users. Technically, the beers are gluten-removed rather than gluten-free but function within the FDA's permissible limits of less than 20ppm. The beers come under 10ppm.
New Belgium Brewing spokesperson Bryan Simpson said: "When we started experimenting with the recipes, we wanted to create beers that our most adventurous craft beer drinkers would enjoy. We didn't want to compromise on flavor, mouthfeel or body. These beers deliver the full flavored experience craft drinkers expect foremost with the added benefit of being gluten-reduced."
New Belgium Brewery is known to make a host of Belgium-inspired beers. It brews include Ranger IPA, Rampant Imperial IPA, Shift Pale Lager, Slow Ride Session IPA, Snapshot Wheat, Sunshine Wheat, 1554 Black Lager, Blue Paddle Pilsner, Abbey Belgian Ale and Trippel.
Image: New Belgium Brewing introduces gluten-reduced ales. Photo: Courtesy of khunaspix/FreeDigitalPhotos.net.
Source:
http://beer.drinks-business-review.com/news/new-belgium-brewing-launches-two-gluten-reduced-ales-for-craft-drinkers-171115-4729146