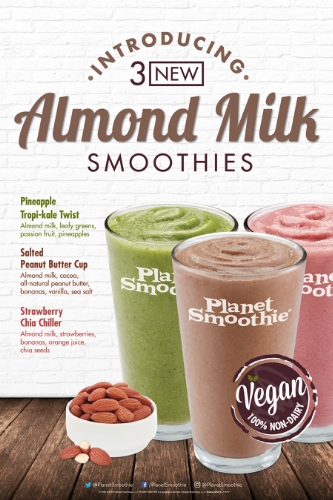 Planet Smoothie has launched three new limited-time vegan smoothies in the US, after making almond milk its first ever non-dairy milk option.
The American chain of smoothie stores said the almond smoothie will be available for a limited period from September 5 till the year end.
Pineapple Tropi-Kale Twist, Salted Peanut Butter Cup and Strawberry Chia Chiller are the new flavors to have come up.
Planet Smoothie national marketing manager Nicole Butcher said: "Almond milk is a fantastic option for consumers seeking dairy-free alternatives and it's so good you can't even taste the difference."
According to the smoothie company, the first flavor comes from a blend of almond milk with leaf greens along with passion fruit and pineapple.
Salted Peanut Butter Cup as the name suggests has peanut butter and sea salt added in a blend of almond milk, cocoa, bananas and vanilla.
The third flavor Strawberry Chia Chiller comprises strawberries, bananas, orange juice and chia seeds in almond milk.
Butcher also added that the company will continue to satisfy to all its customers by coming up with delicious tasting products that suit specific dietary requirements.
The smoothie chain claims that each of the non-dairy smoothies has been developed keeping in mind the health and allergen sensitivity factors. It also says that the smoothies have been blended with almond milk to deliver the same sweet and creamy taste offered by traditional smoothies.
Founded in 1995 in Atlanta, Planet Smoothie has grown into around 110 locations located across 18 US states in the last two decades. Last year, the smoothie chain was acquired by Arizona-based Kahala Brands.
Source:
http://www.drinks-business-review.com/news/planet-smoothie-adds-almond-milk-as-first-non-dairy-option-060916-4996301