BMW is planning to unveil its M2 Coupe enhanced with 'M Performance Parts' at the SEMA Show in Las Vegas along with modified BMW M4 Coupé.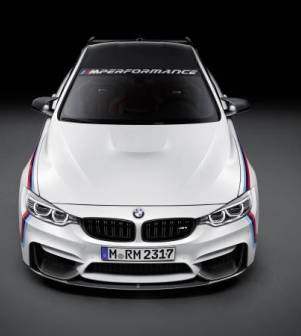 The company has enhanced the look of the BMW M4 Coupé with the M Performance aerodynamic components.
The enhancements include high-end carbon fibre (CFRP), front trim grille in high-gloss black, side sill attachments made of polyurethane (PUR), along with high-gloss black in the M gill elements.
BMW has given adjustable BMW M Performance coilover suspension to improve the sporty driving pleasure, and lowered the suspension to intensify the sporty look and to convey a more dynamic ride feel.
The car is powered by 6-cylinder engine with M TwinPower Turbo Technology capable of producing 431 hp.
Equipped with an M twin-clutch transmission, the BMW M4 Coupé will be capable of accelerating from 0-100 km/h in 4.1 seconds and attain top speed of 250 km/h.
According to BMW, another feature of the car will be BMW M Performance steering wheel Pro with a rim in Alcantara Anthracite.
The first M Performance components for the M4 are expected to be available in January of 2016, with the entire range expected to be released by June next year.
The M2 Coupé, on the other hand will feature black gloss trim grilles with M specific twin trim bars, rear spoiler in carbon fibre finish, and Black gloss trim bars.
BMW also said that the centre console of the BMW M Performance will be a combination of carbon fiber and Alcantara and pedal covers in stainless steel.
Image:BMW M4 Coupé mit BMW M Performance Parts front view. Photo: courtesy of BMW Group.
Source:
http://www.automotive-business-review.com/news/bmw-to-unveil-m2-and-m4-coupe-with-m-performance-parts-031115-4708722