MTEX solutions, producers of textile machinery, have displayed their new range of direct-to-textile print and treatment machines at Heimtextil 2015, international trade fair for home and contract textiles, held in January.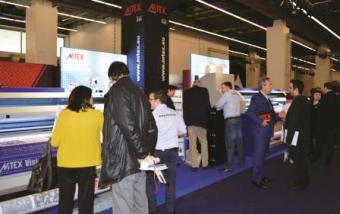 The new products that were displayed include 5032Pro printer, a new vision printer, and a pad pre-coating machine.
Eloi Ferreira, CEO of MTEX said, "While our flagship 5032Pro drew a crowd every day, our new vision printer and the pad pre-coating machine also proved very popular.
"The Vision went down well with potential customers in the apparel and interiors markets, particularly thanks to its ability to print directly onto stretch fabrics using the dye sub option," Ferreira added.
"We also had a lot of interest in the pad coating machine from traditional textile companies interested in coating their own media," he said.
The MTEX 5032 Pro is a high-quality sublimation printing solution that delivers brilliant and vivid colours for applications such as lightboxes, home textile decoration, decotex, flags, sun blinds, window fashion, and automotive.
The 1.85m MTEX vision printer offers direct printing onto stretch fabrics with excellent and vibrant colours, and deep dense blacks. There's no paper involved, with print and fix as one process. The vision is available now with direct disperse inks for polyester, and later on, with pigment ink set for poly cotton and natural fibre fabrics.
The MTEX pad is designed to pre-treat and coat materials with production speeds of between 30 and 140 linear metres per hour. There are two coating options of immersion (or foulard), or a surface coating, and the infrared drying system delivers fully dried fabrics.
Source:
http://www.fibre2fashion.com/news/textile-news/newsdetails.aspx?news_id=170904