Nissan has announced that the company will be providing light commercial vehicles (LCV) and related services to Infiniti Red Bull Racing, Formula One team.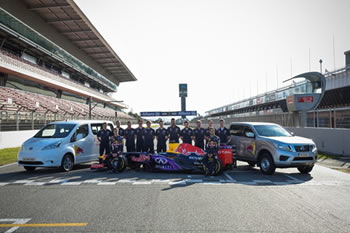 A fleet of 80 vehicles including Nissan NV200, Nissan NV350, Nissan NV400, along with all electric Nissan e-NV200 will be a part of the fleet.
Nissan corporate vice president Philippe Guérin-Boutaud said: "We are very pleased to continue our support of the multiple World Champion Infiniti Red Bull Racing team and look forward to the coming season.
"Nissan is confident that our wide range of innovative, reliable and versatile light commercial vehicles - from pickups and trucks to vans - will provide valuable support to the team at F1 races around the world."
The new generation pickup truck NP300 will also be used to serve the team this season.
Image: Nissan vehicles and Infiniti Red Bull Racing. Photo: Courtesy of Nissan Motor Corporation.
Source:
http://fleetmanagement.automotive-business-review.com/news/nissan-to-provide-fleet-support-to-infiniti-red-bull-racing-170315-4533831