Italian food specialist Citres Spa is set to launch its pickles, pesti and sauces in PC's new polypropylene jars, as part of its efforts to cater to the needs of customers in Northern Europe markets.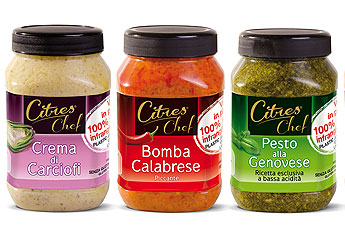 The company has teamed up with RPC to develop the new jars that feature a multilayer PP/EVOH/PP construction which can be pasteurized and sterilized to provide an ambient shelf life.
The jars, which are produced by RPC Corby and RPC Kutenholz, with caps from RPC Halstead, are claimed to provide long shelf life of up to 36 months and are resealable and recyclable.
RPC is supplying its 100g Classic Jar for Pesto and Sauces, the 2400g Thermic Ultra for Olives, Sliced Artichokes and Dried Tomatoes, and the 3800g Amgall for a variety of sliced and diced vegetables.
Citres Spa is offering its products in 2300g and 3700g sizes in packaging that incorporates filling technology which ensures that the containers do not deform during the pasteurization process.
Citres Spa Italy sales manager Angelo Mis said that the results have already been very good and have enabled the company to further develop its products and recipes with new introductions.
"Our goal now is to replace tinplate, which does not meet our requirements in terms of safety and practicality."
Image: The jars are produced by RPC Corby and RPC Kutenholz. Photo courtesy of RPC Group Plc.
Source:
http://packaging.food-business-review.com/news/citres-spa-to-launch-pickles-pesti-and-sauces-in-rpc-jars-230813