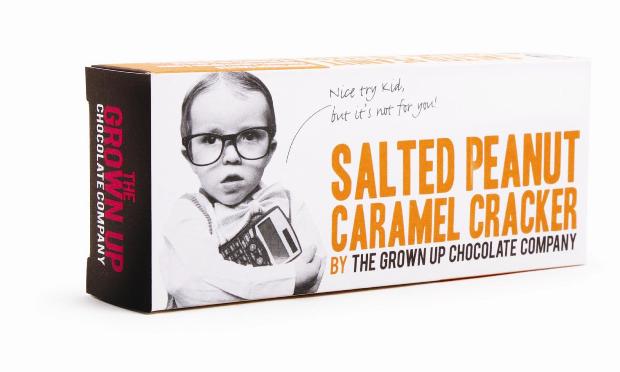 Willy Wonka is at it again. Not since Violet Beauregarde furiously chewed on a three-course meal piece of gum and suffered the consequences has the confectionery category seen such high levels of innovation and new product development (NPD). According to Mintel, in 2013 there's been a 17.1% rise in NPD year-on-year [1 September] – that's 950 new confectionery products.
This raft of entirely new confections and tantalising brand extensions from major players such as Cadbury brand owner Mondelez, builds on a spectacular run of form for the category, which has seen levels of NPD increase by 89.9% since 2007, according to Mintel. This in turn has fuelled sales growth in the category, with Kantar Worldpanel reporting an increase in annual value sales of 3.5%, with volumes also up 0.5% in the year to July.
But although the Oompa-Loompas have been busy concocting mind-blowing new confections in the laboratory many packaging pundits lament the fact that brand owners have been less pioneering with their pack choices. In countlines, flow-wrap still rules the day, and although the creation of the sharing bag sub-category saw the introduction of resealable tapes and seals (a trick also recently copied by some manufacturers of larger bars of chocolate), fundamentally confectionery packaging hasn't changed for decades.
Given the category's recent high levels of NPD and strong sales growth, what are the chances of it continuing to grow and what can design agencies and packaging producers do to encourage brand owners to be a bit more daring in their choice of pack?
Recession proof?
Judging by the category's recent strong performance, all of the available evidence suggests that confectionery could well be one of those rare recession proof categories. That's what David Rogers, owner of We Are Pure and founder of the My World confectionery range, argues. "With less money to spend on new cars, kitchens or designer clothing people turn to low value items as a treat," says Rogers. "Chocolates are a great example of something the consumer can enjoy without having to justify the purchase or balance the household budget. So chocolate provides a little escape from the current economic climate."
And with the Bank of England's current prognosis for the economic climate being incredibly bullish it's little wonder that chocolate manufacturers like Brett Beach, co-founder of the premium 'fair for life' Madagascan chocolate brand Madécasse, are optimistic about the future outlook for the category.
"I think the UK confectionery market is extremely healthy at present, but I believe there is plenty more to come," says Beach. "A combination of the downturn, raw material price increases and increased price promotions has meant chocolate manufacturers' margins have been squeezed in recent years. So it's no real surprise that NPD has been focused on new packaging formats and pack sizes. To this end packaging has played a prominent role and been a key growth driver with sharing bags for one certainly helping retailers to take advantage of the big night in occasion."
It's not just been about sharing formats – other forms of NPD have also helped the category's recent rise to rude health. For instance, one key trend has been the extension of brand ranges, according to Rogers.
"Kraft took its Milka brand and began partnering with other brands they owned creating products such as Milka with Oreo cookies and Daim," he says. "Then Kraft acquired Cadbury back in 2010. Now Kraft [Mondelez] owns Cadbury they've taken a similar approach finding ways to take the traditional product offer and create something like Marvellous Creations. From a design perspective it's presented as a traditional Cadbury bar of chocolate dressed up with a hint of 'carnival' to reflect the new combinations. The starting point for the design may also be very deliberate because Cadbury believes it will entice a certain percentage of consumers to purchase based on familiarity."
Although it's undeniable that there has been a significant increase in the amount of confectionery NPD over the last few years, it's fair to say that a lot of this innovation has focused around new sizes, variants and formats with very little "genuine" NPD says Natalie Candy, senior planner at design agency Coley Porter Bell.
"Brands are typically using NPD to keep consumers interested and their portfolios fresh," says Candy. "What's lacking is that a lot of innovation seems to be for innovation's sake and lacks longevity."
That said, Candy believes there could be some light at the end of the tunnel if recent developments are anything to go by. "We're beginning to see some cross-category innovation which brings excitement, but also works because it feels a little less risky for the consumer. This is likely to continue."
A lot of this cross-category innovation has been focused around countlines. Just a few years ago it was a sub-category that was in the doldrums, but according to Kantar Worldpanel sales of countlines grew 9.4% in value terms and 9.7% in volume terms to year end 7 July this year.
Confectionery countlines is a notoriously competitive market due largely to its two very distinct user groups who shop it – 'impulse' shoppers and 'at home' says Elliot Wilson, strategy director at The Cabinet."Impulse is the place where packaging has the biggest role to play as it's the final point of decision making and needs to suggest the type of eat and the type of satisfaction it will deliver on consumption," he says.
As a result, brand owners looking to win in the countlines arena need to ensure that they're prepared to make a significant investment in the packaging of their products. It's an approach that has certainly paid dividends for the likes of The Grown Up Chocolate Company (TGUCC). The company is currently enjoying year on year sales growth of 20% and TGUCC founder James Ecclestone believes that the brand's packaging has played a key role in this success story.
"Quality, well thought out packaging certainly helps," he says. "Ours is attention-grabbing and makes the customer smile."
Although Ecclestone recognises the value of strong packaging, he believes that there hasn't been enough creative thinking applied by some of the category's more established players when it comes to their own pack designs. "Innovation is vital and the market hasn't seen much of it in the last 30 years or so. Moves to accommodate changing prices have resulted in smaller packs which may be useful marketing in the drive to reduce obesity, but may also leave the consumer thinking that they have been short-changed."
Ecclestone isn't the only who thinks that confectionery brand owners haven't done enough to bring excitement to the category through an innovative approach to packaging design.
Lack of format change
Paul Jenkins, managing director at ThePackHub, also feels that the sector is "disappointingly lacking" any major functional pack format changes. "NPD tends to be visual and related to branding rather than pack format," he says. "The best recent change that comes to mind is the resealable packaging for Cadbury's Dairy Milk that recognises the consumer need for a closure device and the fact that some chocolate eaters consume their product in many stages and not in one go."
Somewhat bizarrely, the huge amounts of money being thrown at developing new product innovations, such as the resealability function introduced by Cadbury, isn't being replicated by other brand owners despite the desire to differentiate their packs.
This reluctance to invest appears to be a lingering legacy from the financial crisis, with manufacturers preferring to spend their money on product innovation rather than packaging innovation.
"What traditionally happens in this space is that when somebody does come up with any new packaging format it is normally overcoming a consumption challenge and is looking to introduce a new occasion to the customer," says The Cabinet's Wilson. "When any of the manufacturers have any level of success in this area it appears that instead of trying to do something different again the competitors fall into line and copy the leader."
But there needn't be such a pack mentality, argues Chris Peach head of packaging and design at Marketing Sciences. He says that there is plenty of scope for creativity and that some brand owners in confectionery sub-categories are showing the way forward.
"Mints and gum have also seen innovation around pack structures," explains Peach. "These new structures are much better suited to the on-the-go consumption behaviour, offering better protection when kept in bags or pockets, hygienic storage and easier dispensing."
While it is clear that confectionery brand owners need to be doing more to bring excitement to the category through the use of innovative pack designs as much as new flavour variants, they also need to ensure that they don't fall into the trap of changing their packs just for the sake of it, cautions Peach.
"Flow-wrap is now much more commonplace but manufacturers need to be mindful of how the pack can be an intrinsic part of the overall brand experience. Consumers can have strong emotional connections with certain packs – who can recall sliding your finger along a Kit Kat to cut the silver foil or the anticipation as you untwist the end of a Cadbury Flake, for example?"
That said, if levels of confectionery NPD continue at the current rate of knots, brands are going to have to give greater consideration to their packaging to ensure their products strike a chord with consumers in an already crowded marketplace, says ThePackHub's Jenkins. "There is a great opportunity to create more disruptive packaging to generate the necessary cut-through and shelf stand out and we'll need to see much more of this in order for brands to improve their visibility."
Vox pop
When designing confectionery packaging what's the key element that you have to get spot on?
Nick Rees
Global creative director
Bulletproof
"Every element of the pack inside and out should be leveraged to tell each product's unique story. We want to prompt consumers to think, 'wow, that looks new, I need to try it', all in a second or less. The temptation is to shout louder than the next pack, but I believe it's more important to focus on what it is that makes you different and then turn up the volume on this aspect. In the smallest pack formats, unnecessary noise and complexity lose the battle before it starts. Simplicity is the key; a single clear and confident message supported by an exciting product will win every time."
Andy Johnson
Business unit director
Sun Branding Creative
"Confectionery is a low-risk investment, yet high in treat factor. It evokes bygone days, which makes it a ubiquitous constant in our lives. Creative execution that backs this up with innovative design will create more intrigue to make for a must-have purchase. This insight is crucial for designers; it enables us to marry the emotional with the impulse nature of the category. Whether it's harking back to childhood or sweet treat occasions, the usual cues are core. But brands are also becoming noticeably adventurous with pack materials, from vintage and 'hand-made' effects through to enhancing the premium quality with foil blocking."
Brett Beach
Co-founder
Madécasse
"We will be rolling out our new packaging in the new year so it's something fresh in all our minds. Our priority with the new design was to ensure we quickly communicated exotic, new terminology and flavour nuances of premium chocolate to busy but adventurous consumers. Our new packaging maintains key elements of our current design – raffa tie, high quality paper, alternative envelope design and communicates more about the flavour of the chocolate within. For us, it is vital that we can help tell the story of the provenance of our chocolate from Madagascar and help to highlight the point of difference we have over our competitors. At the same time, we still have to communicate the premium-ness of our brand."
Elliot Wilson
Strategy director
The Cabinet
"The secret to successful confectionery packaging is threefold: clean, uncluttered brand mark; simplicity of message, explicit and implied; and a consideration to materials of the pack. These elements combined with a strong brand colour system give confectionery brands the best chance possible of standing out in a sea of sameness and being picked up to be enjoyed whatever the occasion. As usual, however, the packaging can only play its part in the final decision making process and if the product isn't great then no amount of great design will get repeat purchase."
Source:
http://www.packagingnews.co.uk/design/markets/a-confectionery-conundrum-cover-feature-confectionery/