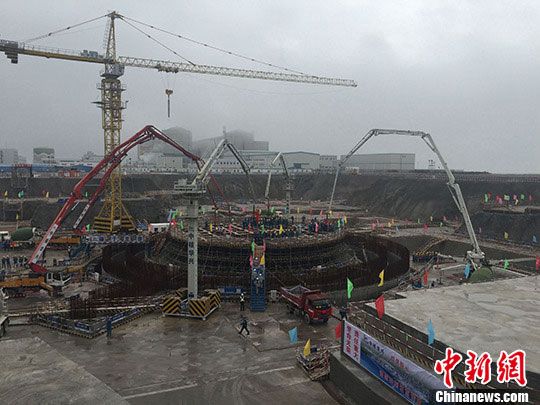 Construction of the second unit of a pilot nuclear power project began in Fuqing, southeast China's Fujian Province on Tuesday.
The project will use the domestically-developed third generation reactor Hualong One technology.
Hualong One was jointly designed by China's nuclear power giants, China General Nuclear Power Group, CGN, and the China National Nuclear Corporation, or CNNC.
Another pilot project using Hualong One will begin later this month in Fangchenggang City in southern Guangxi Zhuang Autonomous Region.
Zhao Liang is an engineer of Fangchenggang Nuclear Power Co., Ltd. He said the environmental impact of the third and fourth unit of Hualong One in the second phase of the project equals 37-thousand square kilometers of forest.
"After setting up of the third and fourth unit of Hualong One, the plant can save five million tones of coal and 13 million tones of carbon emissions annually, compared to coal-burning plants with the same producing capacity."
In response to public anxiety on the safety of nuclear power plants, Zhao Liang revealed that the Hualong One reactor has a double containment feature which can prevent nuclear leaks caused by collisions from the outside.
"Once there is a severe nuclear leak and the radioactive substances breach the first defense lines, the inside containment can effectively prevent them from entering the air. Meanwhile, the outer containment structure can resist the crash or fall of large airliners to prevent damage to the reactors."
Zhao added the Hualong One technology can resist the impact of major quakes and tsunami.
The Fangchenggang project will be the model for the Bradwell B Power Station in Britain, as the British power plant will use the Chinese-designed technology.
CGN's CEO He Yu said the use of Hualong One in domestic plants paves the way for China's nuclear power equipment to go global.
"Thirty years ago, the French and the British helped us build the Daya Bay Nuclear Power Plant. At that time only one percent of the technology was domestic. However, thirty years later, China and France will co-build a nuclear power plant in Britain, using Chinese-designed technology. This is a great milestone."
Since November, Chinese companies have won bids for nuclear power plant projects in Britain and Argentina, and are seeking cooperation opportunities in Europe, Latin America and Africa.
China is the fourth country to master self-developed nuclear technology, following the United States, France and Russia.
It plans to reach 58 million kilowatts of installed nuclear capacity by 2020.
Source:
http://english.cri.cn/12394/2015/12/24/2743s909904.htm