Some Lowe's home improvement retailers have begun to sell Osram Sylvania's 100W-equivalent A-21 LED retrofit lamp that is rated for 25,000 hrs of life.
Beginning at Lightfair International (LFI) earlier this year, it became clear that the major lighting vendors were in a heated race to be first to market with a 100W-equivalent LED A-lamp. Apparently Osram Sylvania has hit the finish line first with some Lowe's retailers already selling the company's Sylvania Ultra LED 20W A21 solid-state lighting (SSL) product.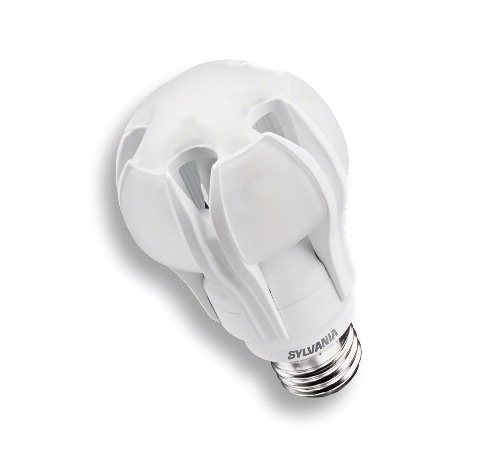 Just a few weeks back, Philips Lighting announced that it was readying to ship its 100W-equivalent and that the lamps would be in Home Depot by December 1. So the race is mainly for bragging rights, but the availability of 100W-equivalent LED lamps is a positive move for the industry.
The Sylvania product outputs 1600 lm with efficacy of 80 lm/W. It has a CRI of 80 color temperature of 2700K and is dimmable to 10%. The company said that based on the 25,000-hr rated life, the lamp would save consumers $220 over its life relative to an incandescent lamp.
"Today's announcement from Osram Sylvania shows a commitment to providing high quality, energy saving products," said Phil Rioux, vice president of lamps and general lighting. "We have a deep understanding of the challenges facing businesses and consumers, such as saving energy and reducing electricity bills without sacrificing quality of light."
Fast forward six months, and the race to market will probably matter little in terms of the sales of 100W-equivalent LED lamps. But differences in product design may. Both the Osram and Philips designs are in the A-21 form factor that is slightly larger than the A-19 size that is most common used in homes. GE Lighting has said that it will deliver an A-19 100W-equivalent lamp, although it may be six months before that product ships.
Moreover, the Osram and Philips products are vastly different in looks. The Philips design uses remote phosphor and is yellow-orange tinted in the off state. The Osram design (pictured nearby) looks white, but still has prominent cooling features evident in the design.
The specs differ as well. Philips says its lamp will deliver 1780 lm - more than is typical from a 100W incandescent lamp that comes in around 1600 lm. But the Philips design also is a 22W lamp.
Back at LFI, GE Lighting said its lamp would deliver 1600 lm and consume 27W. The design uses an active cooling device called Synjet made by Nuventix that is in part the reason that the design can meet the A-19 size. But apparently the cooler also increases power consumption.
Apparently the Osram lamp is selling for $50 at Lowe's. Philips has said that Home Depot will price its product at $55.
Source:
http://ledsmagazine.com/news/9/11/6