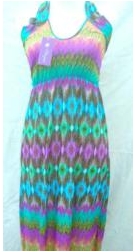 Apparel & Sarong launches their new inventory of wholesale dresses for their wholesale customers. Any interested entrepreneurs or apparel distributors can start a business by getting these types of dresses as launched by Wholesalesarong.com – now on its 16th year, proudly serving wholesale and retail business customers of United States and Canada with a complete selection of the latest trendy fashions in textile garments, fine jewelry, clothing and accessories.
For a minimum order of only $80 per transaction, one can never go wrong on offering clients a bohemian tie neck or V-neck angle cut dress for wedding guest attire, sun or beach dress for a casual day, and even cowl neck halter top and spaghetti strap for use on special occasions.
From time to time, this kind of apparel continues in fashion without getting a faux, the main reason why Apparel & Sarong keeps on integrating concepts and launching new items to upkeep the market demand. For example, beach dresses in tropical theme pattern with unique, uneven, hemline and slimming top can still be worn for the next five years, yet will still look updated.
The longest running maxi strapless long dress made of a comfortable spandex of 95% fabric and 5% polyester, for over 10 years has even emerged from a solid plain color to bohemian and floral designs and counting. Women simply interchange boleros, shawls or coats on top of these dresses to define a certain statement of casualty or formality. In fact, in can be accentuated with hippie jewelry, bohemian bangle bracelets or even Bob Marley jewelry to project different styles of the consumers.
Part of the wholesale clothing boasted by Wholesalesarong.com these days is the empire waist kaftans which can be paired with jeans, shorts, miniskirts, slacks or even with leggings. Its designs ranges from plain, animal prints, tie dye variations and floral prints. It has also evolved with shoulder straps so it can be worn more likely like a dress and not just a long top.
Also, never get left behind with their fake wrapping pants with embroidery designs made of rayon fabric, ¾ trendy design rayon pants, rayon women's top with embroidery on neck, shoulder and bottom, and fashionable angle cut rayon top.
Among the most comfortable dresses from Apparel & Sarong are sleeveless sundresses with elasticized smock waist and uneven small angle cut bottom, sleeveless Bali rayon dresses with or without adjustable straps or with slightly angle cut bottom. A lot more dress choices for flexibility and more feminist are trendy design sun dresses with beaded neck tie, strapless dresses, retro boho sun dresses with wooden bead neck tie, tube top summer dresses, multiple layers neck tie maxi dresses and fashion top with sequins and embroidery.
Products can be liberally mix and match with Rasta clothing or Bob Marley Merchandise or other Wholesalesarong.com merchandise such as sterling silver jewelries, hematite bracelet or bronze ring pendants for a more timeless peg. Since this is a wholesale business, wholesale and retail business customers can select assorted designs of assorted products provided that they meet the minimum order amount stated above.
Apart from the above mentioned products, Wholesalesarong.com is also a distributor of fashion jewelry, organic jewelry, shawls and scarves, hip hop and hippy accessories, Bali handicrafts, Rasta reggae products and primitive musical instruments.
Source:
http://www.fibre2fashion.com/news/apparel-news/newsdetails.aspx?news_id=119393