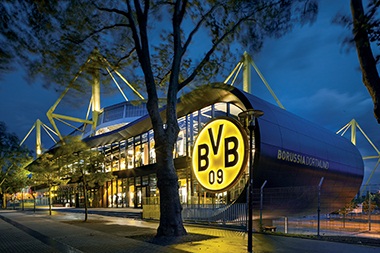 The lighting concept for BVB FanWorld in the Signal Iduna Park was developed by Zumtobel
The Zumtobel Group and Borussia Dortmund Football Club have signed a partnership agreement. The deal was announced by Zumtobel Group CEO Ulrich Schumacher and the chairman of the board for the Borussia Dortmund management company, Hans-Joachim Watzke.
The partnership will be shaped by the Zumtobel Group's two lighting brands, Thorn and Zumtobel, and will run for a five-year term. Along with various lighting projects, the partnership will include customer programmes aimed at electricians, electrical planners and wholesale dealers of both brands.The customer programmes, which include workshops, seminars and networking events, have been created to support both brands' sales departments in maintaining positive relationships with customers.
Through Zumtobel's Lighting Solution Partner programme and the agreement with Borussia Dortmund, the company is offering a matchday package for partners that includes Zumtobel training and tickets for a Bundesliga match at Signal Iduna Park. The training element includes seminars and workshops on lighting technology, as well as access to the latest product and application information.
Commenting on the partnership with Borrussia Dortmund, Schumacher said, "We are targeting significant growth in the German-speaking markets. In Borussia Dortmund, we now have a strong partner at our side. This partnership will provide the ideal context in which to make the most of our strategic multi-brand approach."
The first project for Borussia Dortmund involved an LED lighting solution implemented by Zumtobel for the BVB FanWorld facility in Dortmund.
Lighting solutions have been a hot topic for football stadiums recently. Earlier this month, Lighting reported on the new LED floodlight installation at Stamford Bridge, home of Chelsea FC. Chelsea is the second Premier League club to announce the move to LED floodlighting following Southampton FC's announcement in June.
Source:
http://www.lighting.co.uk/news/latest-news/zumtobel-group-agrees-partnership-with-borussia-dortmund/8668424.article?blocktitle=Latest-News&contentID=2731