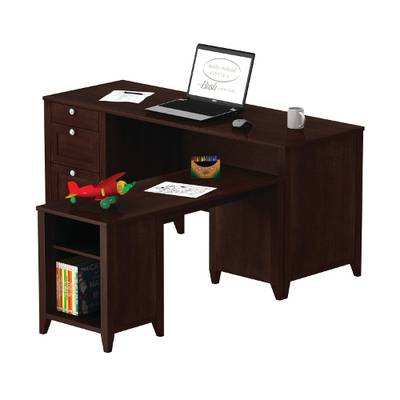 The kathy ireland Office Parent-Child Workstations from Bush fill a need in home office furniture for parents of small children,especially those who work from home.Kathy Ireland's company kiWW entered into an exclusive licensing agreement with Bush Furniture to develop new lines of office furniture and home furnishings.The collection will be available at retailers across the country,as well as online.
The two parent-child workstations are in a modular,L-shaped configuration,and can be built to fit a variety of different spaces.The extra work surface has a lower height,making it easier for a child to use.Once the child outgrows it,the desk can be used for extra storage or as a printer stand.
The Volcano Dusk Parent-Child Workstation has an L-shaped configuration and comes in two finishes,a soft and light Driftwood Dreams and a darker Kona Coast.Details include turned legs,louvered panels,and antiqued bronze or pewter drawer pulls.
The other,Grand Expression workstation has a more classic style,and comes in a dark Warm Molasses finish.It has a traditional pedestal structure along with antiqued bronze and pewter drawer pulls.Similar to the Volcano Dusk Parent-Child Workstation,the Grand Expression Parent-Child Workstation also has an L-shaped surface area.
A welcome feature in both workstations is storage for books and supplies,organizational functionality,and technology management features.
Special Features
Kathy Ireland has been speaking out for the need for child safety features in furniture.Safety is an important component in the design of the kathy ireland Office Parent-Child Workstations,which were tested to meet ANSI and UL standards.Some child safety features are:
Rounded corners and edges
Tempered glass and high durability work surfaces
Soft-close hinges and glider stops to protect fingers from being slammed by the drawers
While Bush has been manufacturing RTA furniture for a while,it has recently made some changes.One of them is that while this furniture comes in a flat pack,it is more like"regular"furniture that comes fully assembled.
The other thing is Bush's new Quick-to-Assemble or QTA technology.Bush claims that it is much easier,and up to five times faster to assemble than traditional RTA furniture.QTA is made possible by having fewer pieces and steps that make assembly easier.
Source:
http://furniture.about.com/od/furniturebytheroom/ss/Kathy-Ireland-Office-Parent-Child-Workstations-From-Bush.htm