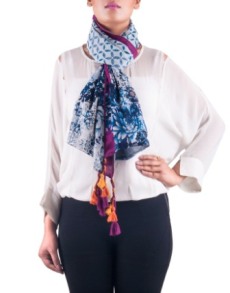 Indian online fashion retailer Saiesta.com has created a new collection of digitally printed, soft, smooth flowing, reversible scarves, inspired by multiple cultures across the world.
Made using viscose georgette fabrics, the colourful line has taken inspiration from Turkish tiles and textiles, Chinese blue pottery, Japanese tie-and-dye technique Shibori, tapestry weaving, kalamkari, French paisley, batik, and gypsy mirror work from Kutch.
"Our scarves can go well with any occasion and lift by a notch any style. The colours subtly enhance the designs and the overall look of the scarves. To further augmenting the appeal of the scarves they are decorated with vibrant and interesting tassels and beads. The designing team minutely decides the color contrast in the scarves, apparent from the eye-catchy and amazing color schemes that are on offer from Saiesta" the e-commerce retailer's chief operating officer, Sonal Abrol, said in a press release.
The one-stop destination for clothing and accessories suitable for all occasions 'Saiesta' is an income generating fashion portal in India that offers entrepreneurial opportunities to women by giving them complete flexibility to work from home or existing work place at most suitable hours.
The company is part of a New Delhi-based export house that specialises in high-fashion garments, Saivana Exports Pvt Ltd. (PB)
Source:
http://www.fibre2fashion.com/news/apparel-news/newsdetails.aspx?news_id=171579