Chelsea FC has become the second football club in the Premier League to announce the descision to move to LED floodlighting.
The West London club installed a Philips ArenaVision floodlighting solution this summer which will be used for the first time on Tuesday 12 August when Chelsea plays a friendly against Real Sociedad.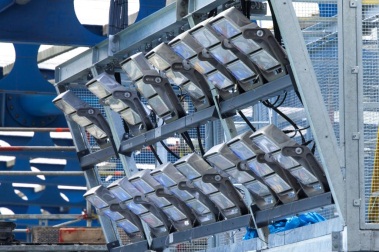 The news follows the announcement by Southampton FC in June that it was also making the switch to LED floodlighting. More clubs are expected to follow suit owing to new broadcast standards by the Premier League which include specifications for super slow-motion replays, and flicker.
In addition, Chelsea FC is also upgrading the lighting at its training ground, installing the same family of Philips LED floodlighting to deliver a similar lighting performance when training as on match days.
Ron Gourlay, chief executive of Chelsea FC, said, "I am delighted to be able to work with Philips on delivering the best possible environment for our supporters to enjoy Chelsea matches in. Once again, Chelsea Football Club is at the forefront of innovation and we look forward to many more memorable games at Stamford Bridge under this new floodlighting system."
Eric Rondolat, CEO of Philips Lighting, said, "The world's first ever floodlit football match took place in England, so as sports lighting goes digital it is only right that the lighting standard is again being set there. We are witnessing another technology milestone in the modern football game.
"Our LED pitch lighting meets the new stringent broadcast criteria of the English Premier League in helping to deliver high definition, flicker-free super-slow motion images and ensures that Chelsea delivers the best possible viewing experience to the 40,000 plus fans in the stadium as well as those at home."
Whether Chelsea's LED floodlights are the first ever to be used in a match situation will depend on conditions on the south coast on the afternoon of saturday 9 August. Southampton FC is scheduled to play a friendly against Bayer Leverkusen on that date which kicks off at 5pm and the decision to switch on the LED floodlights will by made by the referee. The Chelsea game on 12 August is more likely to need floodlights as it will kick off at 7.45pm.
In June, Lighting reported on how Philips was conducting a trial of an LED solution at PSV Eindhoven's stadium in Holland. In the same article, Philips predicted that it wouldn't be long before a similar solution would be seen in the UK. To read the report, click here.
Source:
http://www.lighting.co.uk/news/latest-news/chelsea-fc-installs-led-floodlights/8667037.article?blocktitle=Most-popular&contentID=-1