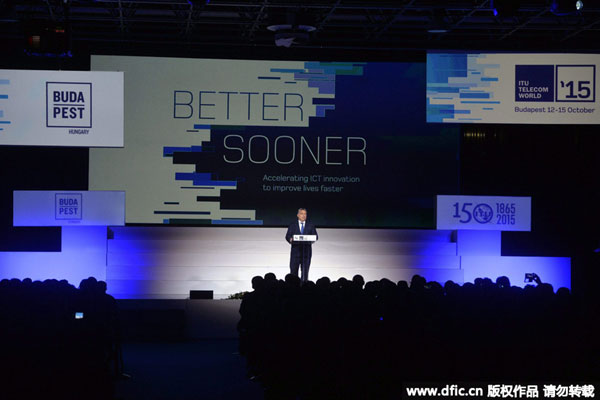 The International Telecommunication Union (ITU) Telecom World 2015 opened in Budapest on Monday with keynote addresses by ITU Secretary-General Zhao Houlin and Hungarian Prime Minister Viktor Orban.
Zhao underlined that small and medium-sized enterprises (SMEs) are increasingly important in the role of information and communication technology (ICT) and the telecom industry and in market development. Supporting SMEs is critical to supporting local innovation, for local content and services, enhancing human capacity and creating jobs, he said.
The SME sector in general represents more than 95 percent entrepreneurs and ensures up to 70 percent jobs globally, he said. Within the ICT sector, it is innovative companies that are driving creation and economic growth, Zhao added.
This year ITU is celebrating its 150th anniversary as the leading UN agency for information and communication technologies, Zhao said. For the first time, Telecom World 2015 includes a number of elements designed especially to support SMEs, such as the industry and SMEs dialogue, the government and SMEs dialogue, and the inaugural ITU Telecom World Entrepreneurship awards.
Orban noted that Central Europe had become an important information technology (IT) sector and predicted that the region would become the European Union's driving force in the next ten to fifteen years.
Hungary, he said, had the fastest-growing info-com sector in the EU and that it played a more important role within the economy than the average for the EU. Information technology makes up 21 to 22 percent of Hungary's gross national product and employs 400,000 people or 15 percent of the overall workforce, Orban said. That puts Hungary near the top of the list of EU countries, he added, surpassed only by Ireland and Finland.
This, he said, was in line with the popular demand that the government give special support to the IT development of domestic businesses. Since 2010, the government has given 16 billion forints (60 million U.S. dollars) to support IT advances in over 1,100 businesses, an amount the administration plans to increase by eightfold in coming years, to boost the competitiveness of about 8,000 info-com businesses. To date, he said, over 8.0 percent of overall Hungarian exports are in the IT sector, which also accounted for 10 percent of research and development input.
Kerstin Gunther, CEO of Magyar Telekom, a subsidiary of Deutsche Telecom, also addressed the opening session. Hungary, she said, should be proud to have one of the best telecom networks in Europe. That reflects its competitiveness and is a firm foundation for continued development, she added.
At the same time, in contrast with the conference's declaration of support for SMEs, she called the fragmentation of the European telecom market a major challenge, given that there are 200 telcos providing services for 500 million subscribers as opposed to the four or five operating in China and the United States.
Taking place from Oct. 12 to 15, ITU Telecom World is the global innovation event for SMEs, corporates and governments.
Source:
http://english.cri.cn/12394/2015/10/13/3941s899229.htm