Italian lighting specialist Artemide will return to Clerkenwell Design Week 2015 with a striking installation of the latest lighting designs by some of the world's most renowned architects and designers. The iconic brand will be based on the Lighting Floor (3rd floor) of the Design factory throughout the festival, which runs from 19th-21st May.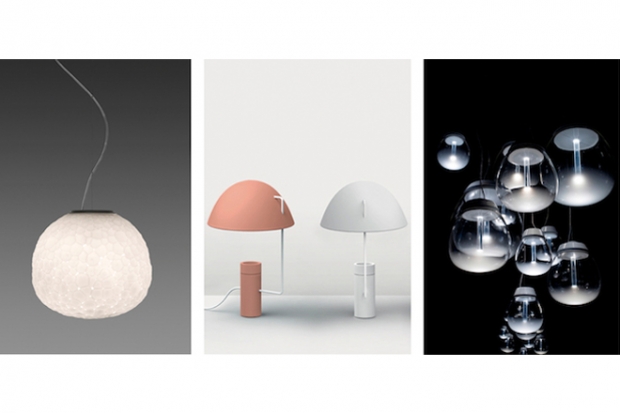 Following hot on the heels of the international preview at Euroluce last month, Artemide will be bringing a selection of new designs to London for its UK launch. At Clerkenwell Design Week, Artemide will present the Glass Tech Collection, a blend of LED technology and hand-blown glass tradition. The Glass Tech Collection includes the Incalmo by Carlotta de Bevilacqua & Fabio Zanola, which cleverly incorporates clear and matte glass, blown in the company's factory in Venice. A new extension to the collection is the Invero by Carlotta de Bevilacqua, which introduces a human and handcrafted dimension – the beauty of the imperfection is celebrated through the hand-blown glass techniques.
Other new products include the Unterlinden by Herzog & De Meuron, a LED pendant light of industrial inspiration featuring a body made of die-cast aluminium, or available in bronze. Fiamma range, by Wilmotte & Industries, is an adjustable LED light designed for domestic and office use. Athena by Naoto Fukasawa uses his signature clean, simple aesthetic – the light features two discs connected by a pipe structure, which emits an ambient light. The new La Petite table lamp by Andrea Quaglio and Manuela Simonelli uses simple and elegant design creating a delicate balance effect.
Alongside the 2015 new products, Artemide will also be showcasing some of its most acclaimed designs. Launched last year, the Incipit by Carlotta de Bevilacqua emits a controlled light in the downlight and high-contrast version, while ensuring heat dissipation. The Meteorite range, by Pio & Tito Toso, is made from cold-pressed glass using an external mould to leave a delicate pattern imprinted on its glass surface.
Following the purchase of Danese, the Milan-based design brand, at the end of 2014, the Artemide stand will showcase Danese products. Mia, by Paola Monaco di Arianello, is a table lamp made of two elements held together by a stem, ensuring the design is stylish but functional and harmonious. Una Pro, by Carlotta de Bevilacqua, is an architectural spotlight designed to adapt with flexibility for every need of light projection.
Carlotta De Bevilaqua, vice president and general manager of Artemide, designer, architect, entrepreneur and fully established university lecturer, will be taking part in Clerkenwell Design Week's Conversations at Clerkenwell talks programme. Conversations at Clerkenwell includes five talks each day, delivering world class content right in the heart of Clerkenwell. The programme also offers an arena to introduce and discuss new innovations and network with A&D professionals. Carlotta De Bevilaqua will be participating in a talk entitled 'Lighting the way inside and out' on Tuesday 19th May at 3pm, in discussion with designer Terence Woodgate and lighting specialists Speirs + Major they consider interior, exterior and sculptural lighting, asking how it affects the way we perceive spaces.
Artemide will also be displaying its innovative lighting designs in Clerkenwell Design Week's new venue, Icon's House of Culture. Located in the rarely-opened Sessions House, the new venue will house a collection of leading and culturally-conscious furniture brands, interior companies, art and film pieces.
Artemide will display a cluster of Empatia suspension lights by Carlotta de Bevilacqua & Paola di Arianello – which incorporates hand-blown Murano glass and LED lighting. Artemide worked closely with Venetian master glass blowers to create a craft object, each entirely unique. Empatia combines a high performance LED light contained in a smooth glass dome, which plays with the subtle effects created by the densities and transparencies of the glass. Also on display will be the Cata, especially designed for museums, but also suited for retail and hospitality environments. The use of clear materials combined with reflecting surfaces conveys an immaterial feel of the appliance in space.
Source:
http://www.furniturenews.net/news/articles/2015/05/898034126-artemide-uk-launches-clerkenwell-design-week