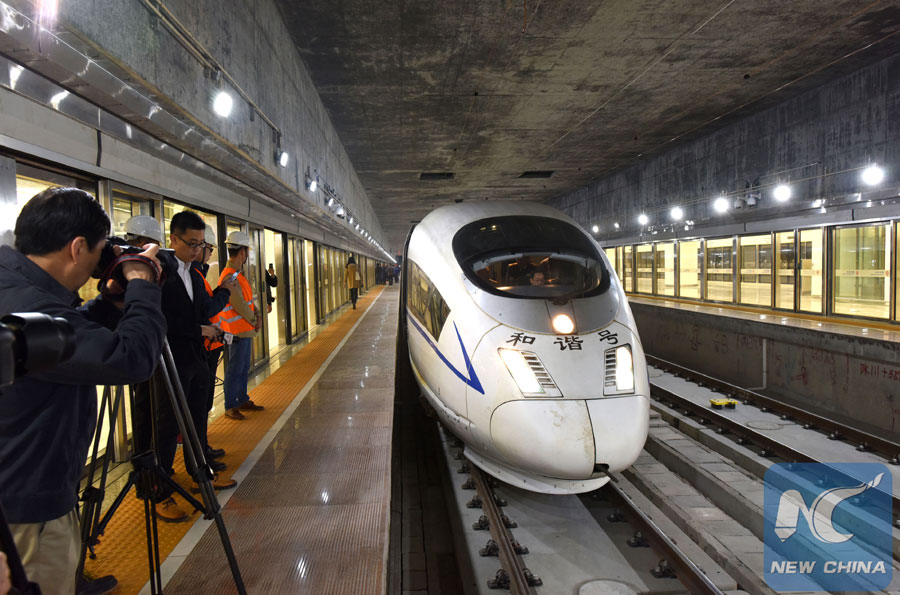 Asia's largest underground railway station has opened in Shenzhen, launching high-speed rail service between Guangzhou and Hong Kong.
The Futian High-speed Railway Station, located in downtown Shenzhen, covers an area equals to the size of 21 football fields, with a seating capacity of 3,000 in its three underground floors.
Xue Weihe, an official with the station, says the new line slashes travel time for commuters from Shenzhen to Hong Kong to 15 minutes.
Travel time between Guangzhou and Hong Kong will also be reduced.
"It used to take two hours to travel from Guangzhou to Hong Kong by train. When the new line between the two cities starts, it will take less than an hour."
Passenger who experienced the line's first day of operation says the new railway station is comfortable.
"The station is spacious and there are not so many people here. I think the signs are clear. Because this station is located in downtown, it is more convenient for us to take a train here than in the Shenzhen North Station."
11 pairs of high-speed trains run between Futian and Guangzhou each day until January 9th, and another 12 round trips will be added to the schedule after that.
Daily passenger flow at the station is expected to reach 10,000 on average during the initial period.
Source:
http://english.cri.cn/12394/2015/12/31/4082s910792.htm