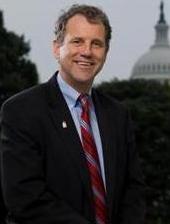 During a visit to a Youngstown store that specializes in American-and Ohio-made products,U.S.Sen.Sherrod Brown(D-OH)discussed a new effort to boost domestic apparel and textile manufacturing.
"Whenever possible,American tax dollars should be used to bolster American manufacturing.Manufacturing helped make this country great.Good-paying manufacturing jobs have allowed hundreds of thousands of Americans to buy homes,send their children to college,and retire with security.But for too long,we've seen American manufacturing jobs—including textile and apparel jobs—shipped overseas due to unfair trade that has stacked the deck against American workers,"Brown said.
"We know how to make things in America,and the textile sector employs more than half a million workers in the United States—which is why the federal government should be purchasing,whenever possible,apparel that is domestically produced.With our widening trade deficit,we should be doing everything we can to support American manufacturing and job creation."
Brown's bill,the Wear American Act of 2012,would revise an existing law requiring that 51 percent of federal agency purchases of textiles and apparel be made on products made in the United States,and require that all textile and apparel articles acquired for use by federal agencies be manufactured from articles,materials,or supplies entirely grown,produced,or manufactured in the United States.It would provide flexibility to federal agencies in the event that such textiles and apparel are either not sufficient or unavailable for production in the United States.
At Youngstown Nation,Brown was joined by proprietor Phil Kidd,along with Bob Hodge of Hodge Embroidery and Screenprinting,who discussed his experiences as Ohio small business owner competing in the apparel industry.Hodge does the screen printing for all Youngstown Nation apparel items.
Brown is the author of the Currency Exchange and Oversight Reform Act,legislation that represents the biggest bipartisan jobs bill—at no cost to U.S.taxpayers—passed by the Senate last year.The legislation would allow the U.S.government to stand up for American jobs when China cheats by manipulating its currency to give its exports an unfair advantage.
Brown is also the sponsor of the All-American Flag Act,which would require the federal government to purchase 100 percent made-in-America flags.The manufacturing and distribution facility of Annin&Company—the nation's oldest and largest flagmaker—is located in Coshocton,Ohio.The federal government is currently required to purchase flags made from 50 percent American-made materials;Brown's bill would require the government to buy flags that are entirely produced with American-made materials.
Source:
http://www.fibre2fashion.com/news/apparel-news/newsdetails.aspx?news_id=117210