Brazil's Empresa Brasileira de Bebidas e Alimentos (ebba) has launched fruit nectars in 200ml combiblocMini aseptic carton pack from carton packaging and filling machine supplier SIG Combibloc.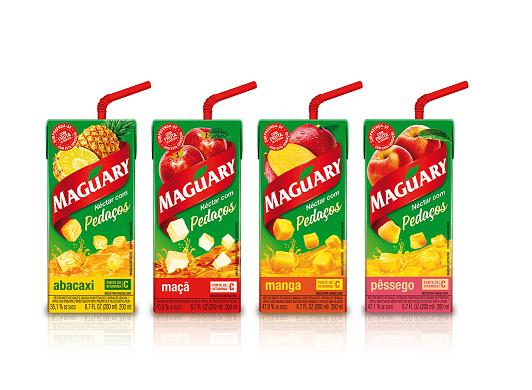 The combiblocMini aseptic carton pack incorporates SIG Combibloc's drinksplus technology.
The technology combined with standard beverage filling machines from SIG Combibloc, allows manufacturers to process and aseptically fill beverages with up to 10% natural particulate content in carton packs.
The fruit nectars, with real fruit pieces, are available in peach, pineapple, apple and mango flavors under the brand name Maguary.
The drinking straw with an extra large diameter allows fruit pieces flow through from carton pack.
Available in major markets and supermarkets in Brazil, the vitamin-rich products can be consumed as a healthy alternative to snacks such as chocolate bars, the companies said.
Ebba commercial director Fábio Levalessi said: "People have a totally new drinking experience when they try the nectars of the new 'Maguary Pedaos' product range.
"With every sip, consumers experience the unusual texture of the drinks. Real fruit pieces give them a particularly intense flavour."
According to SIG, the nectars with real fruit packaged in small-format beverage cartons for long life are completely new in Brazil.
In September, SIG has helped Massachusetts-based Maple launch maple tree natural water in combifitMidi 1,000 ml carton packs.
Image: Ebba's Maguary fruit nectars are available in peach, pineapple, apple and mango. Photo: courtesy of SIG Combibloc.
Source:
http://containers.packaging-business-review.com/news/ebba-launches-fruit-nectars-in-sig-combiblocs-aseptic-carton-packs-061015-4686343