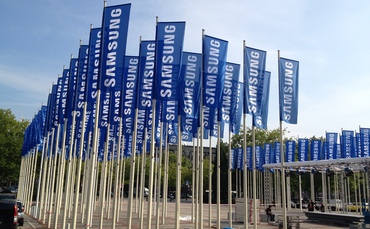 Samsung is to buy a 10 per cent stake in South Korean rival Pantech in a deal valued at around 53 billion won (£31.6m).
Yonhap News Agency reported on Wednesday that the deal would "help solidify" its relationship with Pantech, particularly on their joint smartphone projects.
Further reading
Samsung Galaxy Tab 8 inch details leaked as firm grabs 95 per cent of Android market Samsung muscles in on Apple's supply chain Apple and Android face new threat with €399 smartphone from Jolla
The two firms already have strong links in the semiconductor and display business.
The deal would make Samsung the third-largest stakeholder in Pantech, behind US mobile chip maker Qualcomm and state-run Korea Development Bank, which own 11.96 per cent and 11.81 per cent in the company, respectively.
Seoul-based Pantech lags behind Samsung and LG in the South Korean market.
Pantech is reported to have spent around 235 billion won (£139m) buying electronic components from Samsung's subsidiaries including Samsung SDI.
As Samsung is now the world's largest smartphone maker, its financial muscle is allowing it to cut new deals with manufacturers, including many that supply parts to its biggest rival, Apple. This includes Toshiba's NAND chips and Corning's toughened glass screens.
The deal may come as a surprise to South Korean onlookers who have seen the two companies compete in the smartphone and tablet market. But Samsung's investment comes after Pantech had suffered from some financial difficulties.
In a similar vein, Samsung bought a three per cent stake in Japanese rival Sharp in March. Sharp had also been struggling with financial issues, after forecasting its biggest ever loss for the fiscal year ending March 31 2013.
The Japanese firm also had a strong existing relationship with Apple, which hampered Samsung's plans to feature Sharp's LCD screens in its Galaxy phone, prior to investing in the firm. Since the investment, Sharp has expressed its interest in doing more business with the Korean smartphone vendor, which could enable Samsung to have better access to Sharp's technology.
Source:
http://www.computing.co.uk/ctg/news/2269767/samsung-to-buy-10-per-cent-stake-in-rival-pantech-for-gbp316m#comment_form