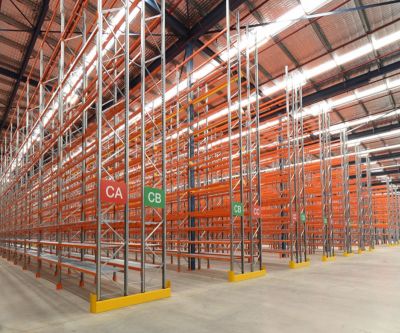 Safer Storage Systems recently launched SSS Racking onto the Australian market. This new range of pallet racking materials is said to be a premium grade that offers a number of key advantages.
The industrial storage system was developed to provide a more durable, long-term solution for small to large warehouses/distribution centres and businesses with specialised storage requirements.
Tested and analysed in accordance with the requirements of Australian Standard AS4084 – 2012, the expertly designed materials do not compromise on the structural integrity of the product.
SSS beams are 50mm deep and tightly rolled together, creating a higher tensile and stronger double layer of material on the top, bottom and edges where it's needed. This double layer of steel creates a thickness of 3.2mm, a feature that gives this system added strength, which can assist with unintended load or impacts.
Racking made with less steel may support the static weight indicated by the manufacturer, however, will not guarantee performance under extra weight caused by incorrectly loaded beams. Operator errors such as this are an unfortunate but realistic issue that all businesses face.
SSS Racking has been designed to be a more robust range of materials, providing longevity in any storage space.
All physical testing of SSS Racking components has been conducted by an independent Australian consulting engineer in association with a reputable Australian University. This testing has enabled the establishment of loading data that is used to undertake customised rack designs that conform to AS4084-2012.
"In today's global market, businesses are putting more emphasis on return on investment," says Matt Bell, managing director of Safer Storage Systems. "We wanted a product we could really be confident recommending to our customers who were looking for a long-term solution. It's why we teamed up with a leading global manufacturer in China to create our own range of pallet racking materials that will stand the test of time in any warehouse environment."
Contact Safer Storage Systems at info@saferstoragesystems.com.au or call (03) 9792 0101.
Source:
http://www.tandlnews.com.au/2016/09/14/article/premium-racking-range-released/