With steady progress of industrialization and urbanization, industrial boiler output keeps growing in China, which hit 512,700 t/h in 2013, surging by 16.71% year-on-year, and posting a CAGR of 16.3% during 2007-2013. China's boiler ownership and capacity both rank No.1 around the world and most boilers in service are industrial coal-fired ones.
Constrained by national emission reduction targets, small coal-fired boiler is trapped. The production and demand of small and medium-sized coal-fired boiler suffers decline, while that of large-capacity clean fuel-fired boiler picks up. Besides, great importance is attached to boiler technologies and products covering coal water slurry-fired boiler, waste incineration boiler, biomass boiler, waste heat and exhaust gas recovery boiler, condensing boiler, etc., thus lifting the overall performance of boiler products.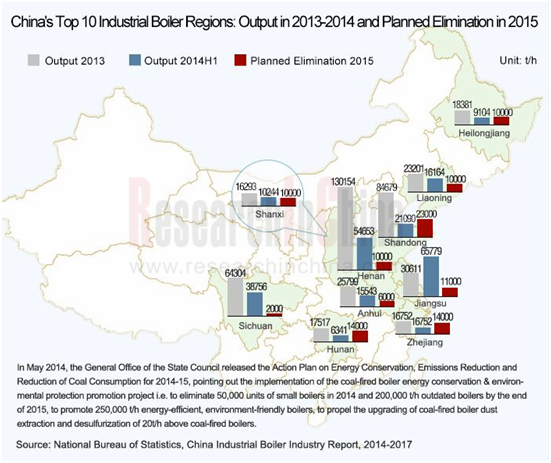 There are over 5,000 boiler producers in China, involving more than 500 Grade A companies, around 800 Grade B ones, about 2,000 Grade C ones and above 1,600 Grade D ones.
Industrial boiler has lower manufacturing qualification requirements than power station boiler (which must be Grade A), which explains why such a large number of producers are concentrated in the industrial boiler area, e.g. Taishan Group, Jianglian Heavy Industry, Hangzhou Boiler, Nantong Wanda, Anhui Jinding Boiler and others.
Amid the aforementioned companies, Taishan Group covers almost all the industrial boiler products, power station boilers, etc.; Jianglian Heavy Industy mainly focuses on waste heat boiler, circulating fluidized bed and the like; Hangzhou Boiler is an A-share listed company, specializing in power station boiler, waste heat boiler and some industrial boilers, followed by Nantong Wanda, Anhui Jinding Boiler, Jiangsu Taihu Boiler, Wuxi Zozen Boilers, Jiangsu Shuangliang Boiler, Wuxi Taihu Boiler and Hongguang Boiler, all of which, with enriched product mix, are all qualified for boiler manufacturing of above Grade B.
Source:
http://www.researchinchina.com/Htmls/Report/2014/8005.html