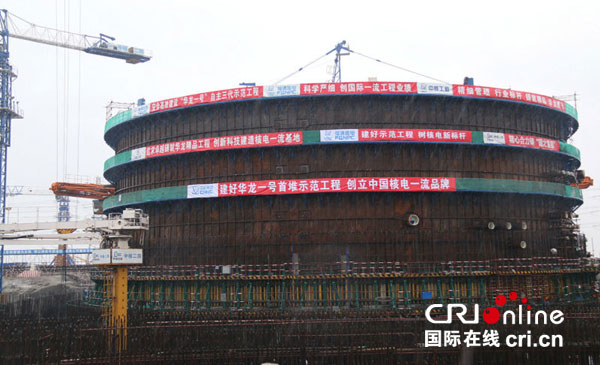 The construction site of Hualong One is pictured here on Dec. 9, 2015. [Photo: CRI Online]
The construction of China's nuclear power plant Hualong One, in southeast China's Fujian province, has made new progress, with part of its 13-layer containment vessel completed.
Xue Junfeng, a senior engineer of Fujian Fuqing Nuclear Power, said the work was finished more than 20 days ahead of schedule.
"We welded in the workshop steel plates together in the form of a cylinder, then lifted it up to the right location and welded it to the building. Such a process has greatly shortened the time needed at the construction site. It saves at least one third of the needed time to construct each module."
The design of the project, which is being independently built by China, has a great focus on safety. It is built to withstand the crash of large commercial jet-liner as well as earthquakes of 8 magnitudes and above.
Construction started on the Hualong One nuclear power unit in May and it is expected to be finished in 2020.
The project is part of efforts to ease power shortages, and cut greenhouse gas emissions.
Two more will soon be built, one also in Fujian and the other one in Fangchenggang in south China's Guangxi region.
Source:
http://english.cri.cn/12394/2015/12/13/3521s908161.htm