The world diamond industry has reached to such a stage wherefrom it may see a downward trend in growth as the gap between demand and supply is widening every year. This is one of the major concerns being echoed by every leader everywhere.
As suggested by De Beers' figures, diamond supply has gone down by nearly 30% since 2007 and demand has gone up by the same percentage in that same five-year period. Ms. Varda Shine says, "Demand and supply gap is just widening. Even though we keep on extending and exploring, no big diamond mine in 15 years has been found and the present level of supply probably would be stagnant in the short term. On the other hand, demand growth continues in China, India and the US. So, the gap is getting wider and wider.
Diamond Trading Company (DTC) sightholders may get reduced supply of rough from the leading diamond mining company, De Beers. It has reported a 31% downfall in the rough production during the 3rd quarter of 2012 and the production in the first nine months of the year has fallen to a flat 20%.
Diamond production worldwide was 124 million carats in 2011, and according to a report, 13 new mines would add 23 million carats by the end of 2012. So based on these figures, forecast is that aggregate diamond production would increase by 2.8% a year to 2020. But this figure is not sufficient to match forecast demand.
Of course the US remains the largest market for diamonds but the rapid growth of the middle class in China and India middle is expected to have the biggest impact on the demand-supply equation. The number of households in these countries with an income of $15,000 is expected to increase up to 469 million in 2020 from about 220 million today.
De Beers is occupied these days in exploration of diamonds in the Democratic Republic of Congo (DRC) and Angola. The Company is spending millions of dollars on exploring these highly prospective mines. De Beers also signed a joint venture agreement with the DRC government's diamond company Miba recently and acquired some 65,000 sq. Kmts of land to explore.
"We had spent $20m in 2011 for diamond exploration in the DRC and we would spend as much or even more in the near future. Our prime goal is to put a diamond mine on the table as early as possible. De Beers is also on the verge of giving final approval for the expansion of the Venetia diamond mine in South Africa. While different boards have given the Company their project approval in principle, it is awaiting regulatory approval before proceeding with the implementation of the Venetia project." a De Beers official says.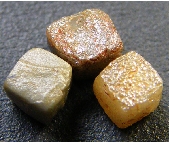 3% to 10% price increase per annum in rough diamonds
Recently, the market happened to see some rays of hope. Some Russian press had come out with news on Sep. 18 about huge industrial diamond deposits below the Popigai Astroblem in Siberia. The crater which was said to overturn the entire gem market however seems unlikely to be commercially viable. The said mine area is located in a remote place without any necessary infrastructure, and there are of course the economic implications. "There are production cost-effectiveness issues," leading Sobolev scientist Nikolai Tuchkov has admitted. "The area is quite remote from any population center," he has observed.
2012 marks a major nuance point in the world diamond market. From 2012 onwards, consumers would start to see diamond prices surge as the supply and demand gap starts widening. Demand on one end will keep on growing while supply on the other end would diminish. This (supply and demand gap) would in turn spark diamond prices. Experts forecast a 3% to 10% price increase per annum in rough diamonds for the coming years due to growing demand in Asian countries.
Source:
http://www.jewellerynetasia.com/en/Blog/246/Is_the_Industry_Heading_towards_Rough_Supply_Crunch_.html?user=8#comments