Philips has partnered with communications technology provider Ericsson to jointly launch a connected LED street lighting model.
The partnership will see the lighting manufacturer incorporate mobile telecoms equipment from Ericsson into specially adapted street lighting columns to improve network coverage in dense urban areas.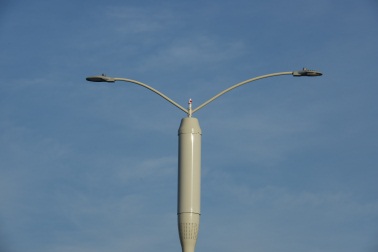 Philips argues that the new products will allow city authorities to rent space within the connected lighting columns to network service providers for mobile broadband infrastructure, thereby helping them to pay for LED street lighting more quickly. In return, mobile network operators will be able to improve data coverage for citizens resulting in enhanced mobile services. A spokesperson for Philips told Lighting that this could mean better telephone signals but also improved 3G and 4G coverage.
Ericsson president and CEO Hans Vestberg said: "This is a tremendous solution using ICT [information and communications technology] and partnerships to address the megatrend of urbanisation. City populations are increasing at the rate of 7,500 people per hour, but our world is not geographically expanding. Meanwhile, our ConsumerLab research shows that internet connectivity is one of the top five factors for satisfaction in city life."
Frans van Houten, president and CEO of Philips, said: "This new connected LED street lighting model is another example of us bringing the Internet of Things to life and demonstrates the capabilities of light beyond illumination. We are offering lighting as a service that scales with a city's needs and enables city officials to offer their citizens a more connected, energy efficient and safer urban environment, while preserving existing budgets and resources to improve the liveability of their city."
This may be the first time that street lighting and the mobile communications have come together on this scale but, on a similar note, earlier this month Bournemouth council announced that it was carrying out a feasibility study into the idea of installing Wi-fi in lighting colums throughout the borough.
Source:
http://www.lighting.co.uk/news/latest-news/philips-and-ericsson-partner-to-provide-mobile-telecoms-in-street-lights/8659295.article?blocktitle=Latest-News&contentID=2731