Naming Conventions of Light Bulb Sockets and Base Types
Light bulb bases and sockets are normally defined by a letter-number-letter format, with the last letter optional. The first letter designates the shape or form of the base, the numbers represent either the width of the base or the distance between the pins. The second letter designates the number of pins or contacts on the lamp. The numbers are normally in millimeters. LED light bulb sockets and bases are manufactured to the same standards as halogen, incandescent and other traditional lights.
By way of example a standard USA screw-in incandescent bulb has a base type of
E26. E stands for Edison screw-in and the 26 means that the base is 26 millimeters. E27 is the European standard screw-in size.
LED light bulbs and LED lamps use the same socket designations as traditional light bulbs. Retrofit Solid State Lights (SSL) that use LEDs or OLEDs are normally designed to be compatible with existing sockets.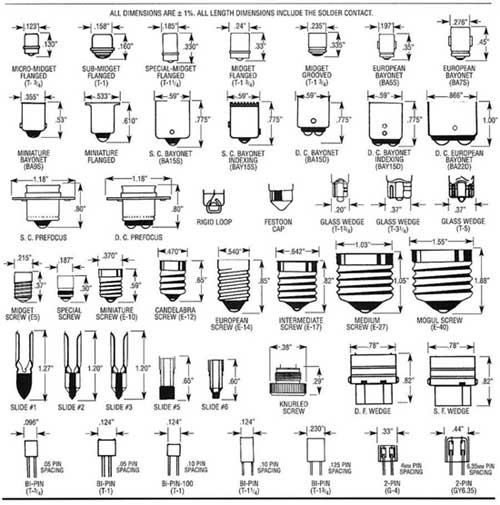 Light Bulb Base and Socket Shape Types
B Bayonet Collar Base
E Edison Screw Light Base
F Single Pin Type Base
G Multiple Pin Type Light Bulb Base
K Cable Connections
P Pre-focused Light Base
R Recessed Contact(s) Base
S Shell-type Light Bulb Base
T Telephone Slide Base
W Wedge Base
X Special Type Lightbulb Base
Lamp Number of Pin or Contacts
s Single Pin
d Double or Bi-Pin Base Type
t Triple Pin Base or Tri-Pin Base or 3 Pin Base
q Quadruple Pin Base or 4 Pin Base
Bulb Type Details
B or Bayonet light bulb base and sockets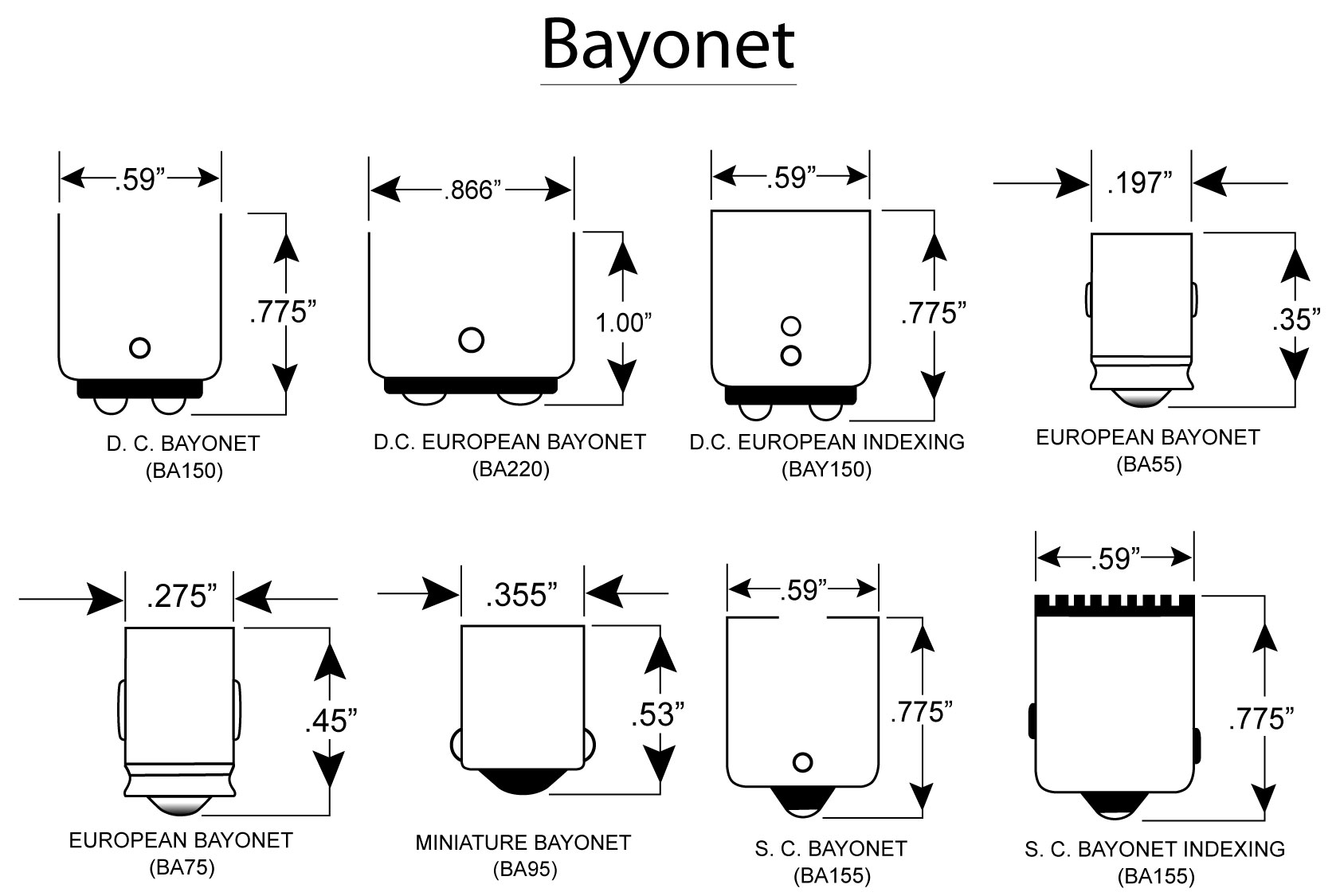 LED light bulb bayonet base types.
Examples of these base types include: BA75, BA95, BA150, BAY150, BA155, BA220
Bi-pin and G sockets and bases
LED light bulb bi-pin base types.
Examples of LED bipin base types include: G4, G5, GU5.3,
GU10, G13, T-1/2, T-3/4, T-1, T-1 1/4, T-1 3/4.
For more information on G type bases see G below.