Speaking at a press conference with Taiwanese media at Semicon Taiwan on Sept. 2, 2015, Nobel Laureate Shuji Nakamura shared his observations on lighting technology trends and commented on Taiwanese LED manufacturers situation.
Nakamura remained optimistic about the LED industry outlook and projected future technology developments in the industry would be prioritizing strengthening blue LEDs, UV LEDs, and laser diodes (LD). Violet-based LEDs and LDs were also candidates for emerging next generation lighting technologies, he said.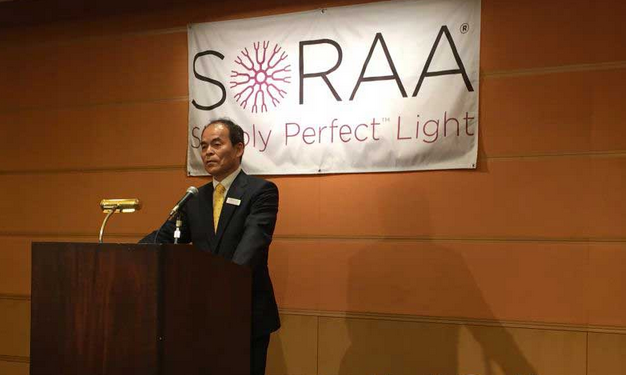 The Nobel Laureate's current research focus emphasizes strengthening LED light emission, a UDN report cited Frank Chang, Distinguished Professor, and Wintek Chair in Electrical Engineering at UCLA. Uneven light emission was a common issue in early generations of LEDs, and the next generation LEDs will need to make breakthroughs in both emission and uniformity. Violet-based LED properties resemble lasers and are able to emit light over a longer range and conserve more energy.
Violet LEDs developed by Nakamura share similar properties to laser, but are very costly to manufacture. Although, the technology is viewed as the next Nobel Prize contender, there is still a long road ahead before it can be commercialized.
Innovation key to Taiwanese LED manufacturers survival
Nakmura's pioneering work in blue LED during his employment at Nichia provided the foundation for its patent lawsuit against other competitors. He recommended Taiwanese manufacturers should innovate.
Price competitions are making it increasingly difficult for Taiwanese manufacturers to profit from focusing on LED chip and component industries, he explained. Chinese manufacturers' production capacity and future developments have created difficult circumstances for Japanese and Taiwanese LED makers. Nakamura recommended Taiwanese companies should focus on system integration to create higher added value for their LED lighting systems.
Chang noted the two greatest challenges Taiwanese LED manufacturers face copying other companies LED designs, and only seeking mass production models, said Chang. If companies do not innovate, and are only using Nakmura or other companies' patents, Taiwan's LED industry will make very little progress.
There is still room for Taiwanese LED manufacturers to innovate, said Nakamura. Using his own experience as an example, Nakamura pointed out engineers in company R&D departments could invent meaningful applications by focusing on a single research subject. It took Nakamura 20 years to develop blue LEDs that are now widely used in monitor backlights and other lighting applications. The invention even landed him a Nobel Prize in Physics last year.
Source:
http://www..com/news/2015/9/shuji_nakamura_on_the_next_generation_lighting_technologies_and_taiwan_market_trends