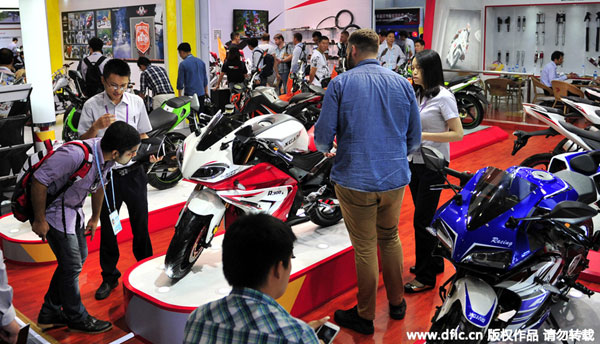 Foreign buyers look at motorbikes during the 118th China Import and Export Fair, also known as Canton Fair, in Guangzhou city, south China's Guangdong province, 15 October 2015. [File Photo: ImagineChina]
Chinese Minister of Commerce Gao Hucheng says he is confident in China's foreign trade.
Gao made the remarks while attending the 10th Ministerial Meeting of the WTO in the Kenyan capital Nairobi.
Official data show China's foreign trade in November dropped 4.5 percent year on year, the ninth-consecutive monthly decline and a significant contraction along with the 9 percent plunge registered in October.
"So we can see that although China's trade volume is declining, but its trade share in the global market has been on the rise. Therefore the rise in China's trade share in the global market this year is certain. In my own judgment, it will be 0.8 to 1 percentage points higher."
The commerce minister notes that given the fluctuating global market and China's own development needs, adjusting the growth pattern is still crucial for the country's economy.
"China's economy is closely connected to the external market environment. As China's economy enters the new normal, it needs to adjust its structure and transform its growth pattern. For example we have a lot of production capacities and products originally designed for the international market. Now that the international market has shrunk, these capacities and products must also be adjusted."
China has allowed the yuan to slowly weaken to a near four-month low against the dollar, but few believe exporters will be significantly helped by anything short of a drastic devaluation.
Source:
http://english.cri.cn/12394/2015/12/18/3746s908937.htm