As handy apps continue their inexorable rise, they are increasingly found in industrial applications as well. As early as 2012, HERMA notched up an industry first with an app that allowed labellers to be set up from a smartphone or tablet.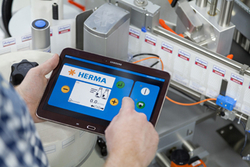 Now the self-adhesive specialist has paved the way for the app's wide-scale use with HERMA 400 labellers.
In perfect time for the Interpack trade fair, all model variants of the HERMA 400 label applicator from the Vario version onwards will be equipped with a suitable Bluetooth interface as standard (Hall 12, Booth B24). As a result, the most popular HERMA 400 label applicators will be compatible with the app.
The interface has a range of up to 50 metres. In conjunction with the HERMA app, it allows label applicators to be controlled wirelessly from touchscreen devices.
With the app, users and service engineers can not only view and test all the inputs and outputs, and read out the relevant status information: the label applicators can be configured this way too. In this case, smartphones and tablets operate as wireless remote controls. This is particularly practical in situations where access to the applicator's integrated display panel is impeded.
The HERMA 400 App operates on the Android platform, which has emerged as the world's most popular. It has been adopted by practically every smartphone and tablet manufacturer. Users therefore have a more or less unlimited choice of hardware. At the same time, sophisticated encryption technologies and intelligent access controls ensure comprehensive security in the production environment.
Image: Nearly every HERMA 400 label applicator can now be configured and controlled using touchscreen devices. Photo: courtesy of Herma.
Source:
http://packagingmaterials.packaging-business-review.com/news/interpack-app-out-now-for-wide-scale-use-010514-4256262