Mighty Bright, designer and manufacturer of innovative LED lighting products, is pleased to announce the LUX Bar LED Task Light has earned the U.S. Environmental Protection Agency (EPA)'s Energy Star certification.
The Energy Star brand is widely recognized by American consumers and businesses as a mark of environmental protection, exceptional performance, and financial responsibility. Energy-efficient and versatile, the LUX Bar LED Task Light exemplifies these standards, casting 400 lumens of bright white light while consuming only 7.5 Watts of power.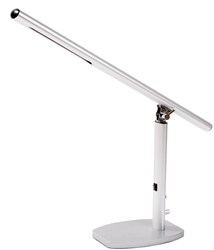 "We are incredibly pleased that our commitment to sustainability is affirmed with a certification as reputable as Energy Star," said Michelle Haas, marketing manager for Mighty Bright. "We expect many LUX LED Task Lights to achieve this label in the coming years."
The sleek LUX Bar LED Task Light is an innovative, eco-friendly alternative to traditional task lighting. Versatile and well-proportioned, the LUX Bar LED Task Light features aerodynamic lines and a slender arm and is available with an optional clamp base. The LUX Bar is solidly constructed of metal components and high-quality, bright white LEDs. A perfect fit for a variety of spaces—including corporate workplaces, residential interiors, and home offices—the LUX Bar provides task lighting with flair.
Source:
http://www.ledinside.com/news/2013/7/mighty_bright_lux_bar_led_task_light_20130718