After more than doubling its strategic oil reserves since last year, China may apply the brakes to its buying spree as storage availability is expected to be limited, while a climate of depressed prices will reduce any urgency to snap up cargoes, market observers said Monday.
The National Bureau of Statistics said Friday that China's SPR more than doubled its crude reserves to 26.1 million mt, or 191.31 million barrels by mid-2015, from 91.11 million barrels on November 20, 2014.
The latest reported SPR stock were equivalent to around 29 days of China's crude imports, Platts calculations showed, based on the country's average imports of 6.63 million b/d over the first 11 months of the year, according to data from the General Administration of Customs.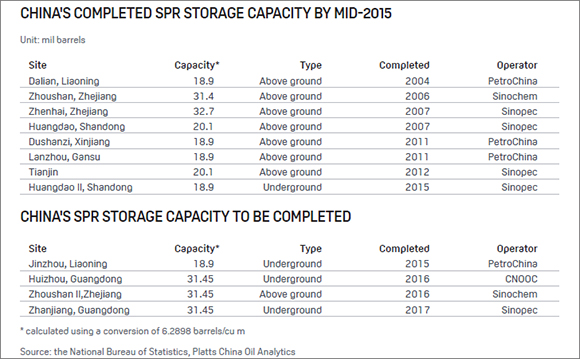 The government had earlier indicated it wanted to achieve 90 days of forward import cover by the end of 2020.
"Although there is a long way to go to meet the target, the growth in strategic reserves that we saw in 2015 is unlikely to be repeated in 2016 due to the limited availability of crude storage capacity," said James Lu, senior analyst from Platts China Oil Analytics.
This view was shared by Dong Xiucheng, an oil and gas expert at China University of Petroleum in Beijing, who said that although more SPR sites are expected to completed this year and next, it would take some time before they will be able to start accepting cargoes.
One new site with 18.9 million barrels of capacity is expected to be completed in 2015, and two more sites with 62.9 million barrels capacity are expected to be ready next year, as estimated by Platts COA. An additional 31.45 million barrels of capacity would be ready in 2017.
"The sites still need to be inspected and approved before turning fully operational. It takes time," said Dong.
The government said it has been using several commercial crude oil tanks to store SPR crudes, indicating that there was a shortage of space.
According to NBS' release, SPR stocks in mid-2015 were 11.41 million barrels higher than the total storage capacity of the eight completed SPR sites.
In addition, the 18.9 million-barrel underground SPR site in Huangdao started to receive crude in June.
All these imply that commercial tanks were used to occupy more than 11.41 million barrels.
But availability of commercial tanks is also tight due to strong demand for stocking in China since oil prices are low, Lu added.
In January-November, the country's crude stocks grew by 442,000 b/d, up 55% year on year, Platts calculation based on the last official data showed.
BUYING STRATEGY ADJUSTMENT
Furthermore, the country's SPR stock building may slow as oil prices are unlikely to rebound in the short term, observers said.
"The strong growth by mid-2015 was mainly due to a more than 50% drop in crude oil price from the second half of last year. To take advantage of that, China bought heavily for SPR in anticipation that prices could rebound anytime," said Lu.
However, oil prices are showing no sign of bottoming out soon, Lu said. "China will adjust its SPR buying strategy to a slow pace amid low and stable oil prices," he said.
A senior economist from CNPC's Economics & Technology Research Institute agreed, adding that China was in no hurry to fill all tanks as it is easy to buy barrels in the international market at low prices.
The ICE Brent front-month price started to fall on June 19, 2014, when it peaked at $115.06/b. It hit a seven-year low of $37.93/b on Friday.
Source:
http://www.platts.com/latest-news/oil/singapore/china-may-apply-brakes-to-strategic-oil-reserve-27051432