During its E3 2016 press conference Microsoft announced Xbox Play Anywhere, a new service coming to Xbox One and Windows 10.
What is Xbox Play Anywhere?
This new service means that, by purchasing a digital game on either Windows 10 or Xbox One, you'll receive a free copy of the game on the other platform.
All games on Xbox Play Anywhere will support cloud saves, cross-play and achievements via Xbox Live.
In a nutshell, you are essentially getting two games for the price of one.
Related: E3 2016: Latest news and announcements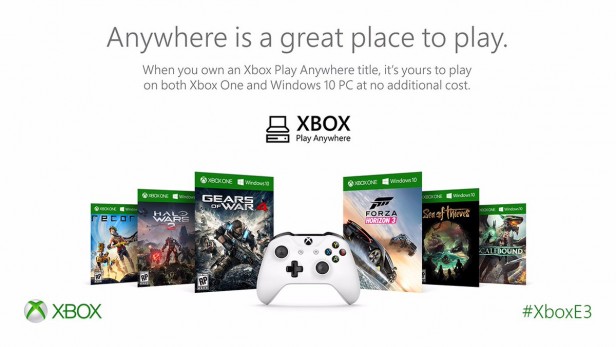 What games are supported?
Some of the games currently announced for the service include:
Ark: Survival EvolvedCrackdownCupheadForza Horizon 3Gears of War 4Halo Wars 2 RecoreScaleboundSea of ThievesState of Decay 2The Culling
Microsoft is clearly dedicated to Xbox Play Anywhere, so we imagine a number of titles will be announced in the near future.
How do I use it?
It's simple and easy. So long as you own a valid game on Xbox One or Windows 10, you will gain access to the game digitally on both platforms.
You must have purchased the game digitally in order to have access to the Play Anywhere perk, though, based on what was said during the press conference.
The service will be supported by Xbox One, Xbox One S and any compatible Windows 10 PC. We can also expect it to be supported for Project Scorpio when it launches in 2017.
Will you be taking advantage of Xbox Play Anywhere? Let us know in the comments, and be sure to check out our E3 2016 coverage for more updates.
Source:
http://www.trustedreviews.com/news/xbox-play-anywhere-games