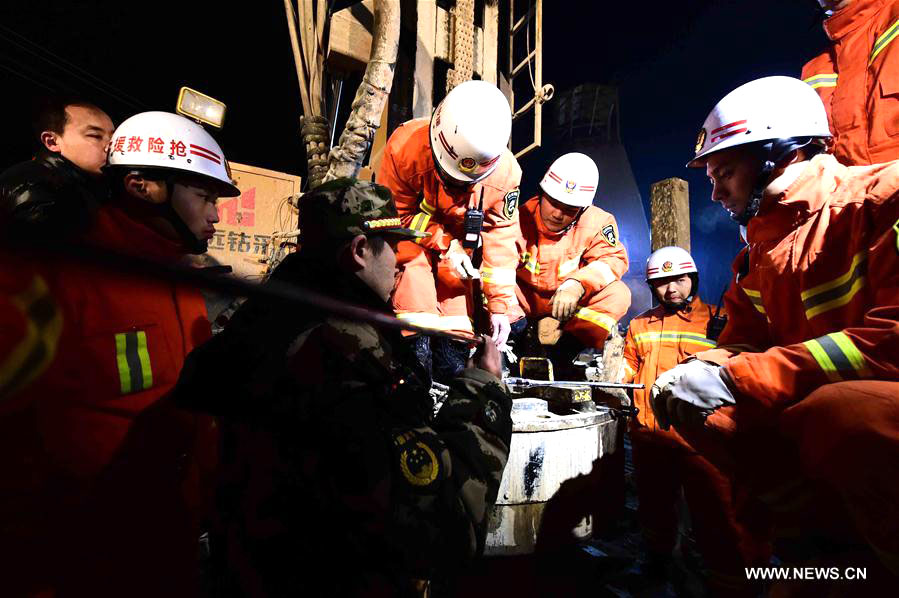 Rescuers are preparing to attempt to reach to 8 of the 17 miners trapped underground for a seventh day, following the collapse of a gypsum mine in Shandong Province.
The drilling of the third and the fourth relief holes is underway, which may allow the miners to be lifted to safety.
This comes after rescuers managed to contact some of the trapped workers on Wednesday.
An infrared camera was sent down, and the camera captured images of one of the surviving miners.
Rescuers at the scene said the eight are in better condition than what was expected.
Li Suming is a one of the rescuers at the site.
"The trapped workers I was in contact with are in good condition. They can still clearly express themselves. They said they are hungry and asked for food, as this is the sixth day they have been trapped underground. Right now the hole is just big enough to send down food and supplies, so we need to drill deeper to expand the hole big enough for lifting them out, which will take some time but we are confident."
The miners are regaining their strength thanks to the food and supplies being sent down the hole.
Nutritionists have been preparing a nutrient solution and medicine for them every two hours.
The gypsum mine in Pingyi County collapsed last Friday when 29 miners were working underground.
Apart from the eight which have been contacted, one miner has been confirmed dead, four managed to escape from the pit, and seven others have been rescued so far. 9 remain unaccounted for.
The cause of the accident has yet to be confirmed.
Source:
http://english.cri.cn/12394/2015/12/31/4201s910793.htm