At this year's China SSL Conference , AIXTRON again has hosted an MOCVD seminar along with the China Solid State Lighting Alliance (CSA). More than 200 decision-makers from industry and research took part in AIXTRON's International Short Course on MOCVD held in Guangzhou.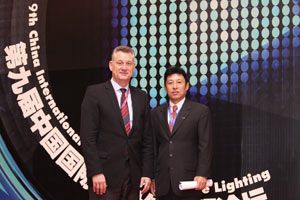 Dr. Bernd Schulte, Tim Wang, AIXTRON SE
"Prices for LED bulbs as replacements for 40W incandescent bulbs in some countries are below the USD 10.00 mark", remarks Dr. Bernd Schulte, COO & Member of the AIXTRON Executive Board (pictured left), in his presentation. "This is good news, because it will significantly expand the market for LED lighting. The question now is how to reduce manufacturing costs even further, which turns the focus onto MOCVD as a decisive manufacturing step. I am convinced that we can only achieve quality and cost efficiency by constantly improving the reactor design and through maximum process control. If we continue to strictly focus on these areas and, at the same time, help our customers to migrate to silicon wafers of up to 8 inches in diameter, we will be able to achieve a considerable further reduction of production costs."
"China has the potential to become the world's biggest market of end consumers for LEDs over the next few years," remarks Tim Wang, General Manager of AIXTRON China Ltd. "Over the past few months we have realigned and restructured our China organizations to be more customer focused. Our Demo & Training Center is currently experiencing strong demand for supported process demo, training and development, which shows us that our customers recognize the benefit we have created for them locally."
As a leading supplier of key technologies for innovative, energy-saving solutions, AIXTRON provides cutting-edge technology to manufacturers worldwide – even beyond LED, for example for organic and silicon-based semiconductors. With its CRIUS II-XL and AIX G5+ for GaN-on-silicon systems, the company currently provides the world's most productive technology with the highest throughput and the lowest consumption and operating costs in the industry – among other things for 6- and 8-inch GaN-on-silicon substrates.
Source:
http://www.ledinside.com/news/2012/11/aixtron_mocvd_seminar_20121109