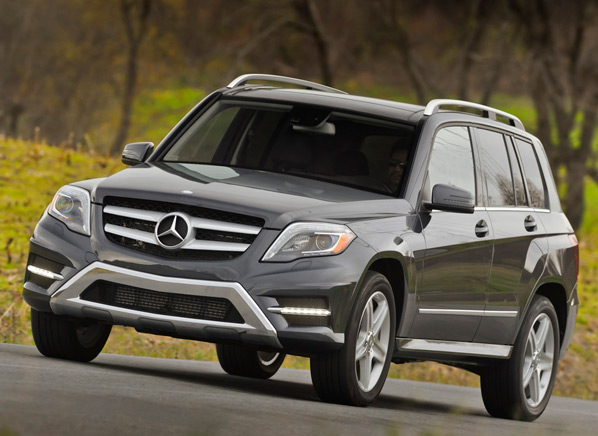 Diesel engines and SUVs were made for each other. Diesels' scads of low-end pulling power and great fuel efficiency make it a cinch to haul around the weight of an SUV with all-wheel-drive, and these torquey engines make up for the fuel economy penalty that gas-powered SUV's usually exact.
Several European automakers, long diesel proponents, have figured this out and started installing them in their SUV lineups. Mercedes-Benz is the first one to put a diesel in its smallest SUV. (Read our Mercedes GLK350 road test.)
Called the GLK250, the small SUV uses a 200-hp, 2.1-liter, four-cylinder diesel engine, notably the first four-cylinder diesel in a Mercedes in the United States since 1985. More importantly, the GLK250 BlueTec (Mercedes' name for diesel) produces a prodigious 369 lb.-ft. of torque starting at just 1,600 rpm. It is EPA-rated at 28 mpg overall and 33 mpg on the highway. That compares to 21 and 25 mpg, respectively, for the gas-powered GLK350.
To learn more about diesels, visit our guide to alternative fuels.
We had a chance to drive the new GLK250 BlueTec from Mercedes' Manhattan company-owned dealership this week. Like most modern diesels, it is quiet and emits no smoke or smell. While there's a little clatter audible from outside the car at idle, it sounds serene inside. The small-displacement diesel is not quite as smooth as the GLK350 we recently tested, but it is quieter than some gas engines.
On the road, the diesel isn't as punchy as the quick gas model, but acceleration lives up to Rolls-Royce standards: "Sufficient" for anything you'd ever need to do. Even off the line, this square-edge SUV doesn't feel like it has 369 lb.-ft. of torque, though.
Unlike other four-cylinder diesels, the GLK250 uses diesel exhaust fluid (known as AdBlue at Mercedes dealerships) to minimize emissions. Mercedes says this is necessary to meet stricter, upcoming emissions regulations in Europe.
The biggest eye-opener for us in the GLK250 BlueTec, however, was the sticker price.
The BlueTec comes standard with all-wheel drive and costs $39,495, or $1,500 more than a rear-wheel-drive, gas-powered GLK350. Typically, diesel powerplants carry a price premium, but here it is a lateral move when you consider that AWD often carries a similar price premium.
While the list price is attractive, the two versions we drove cost $50,735, and $57,075 after option packages were piled on, including common features such as USB iPod connectivity, a sunroof (panoramic, at least), a rear-view camera, and seat heaters. All these features are easy to find on much cheaper small SUVs, such as the Honda CR-V and the Subaru Forester.
An interesting model that should find appeal among buyers seeking a balance of luxury, fuel efficiency, and just-right size. The GLK250 BlueTec goes on sale next week.
Source:
http://news.consumerreports.org/cars/2013/04/diesel-powered-mercedes-benz-glk250-boasts-33-mpg.html#comments