Iran is loading eight LPG cargoes totaling 317,000 mt in May for export to Asia, the biggest monthly volume since resuming shipments in May 2013 following an eight-month halt on concerns over an EU ban on shipping insurance, shipping and trade sources said Friday.
The latest May liftings indicate Iran is almost returning to export levels seen before the July 2012 sanctions, with cargoes seen bound for Southeast Asia and South Korea, along with China, which has dominated purchases since February this year, they said.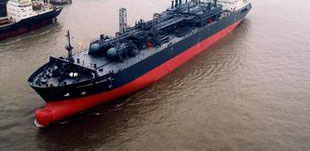 "There are enough LPG ships calling at Iranian ports," one source said, adding that there could even be a shortage of LPG cargoes from Iran to meet demand.
South Korea's biggest LPG supplier, SK Gas, has bought a 44,000 mt mixed LPG cargo from Iran for end-May or early-June loading, its first purchase since November, sources said.
The cargo, comprising 33,000 mt of propane and 11,000 mt of butane, was bought from Petrochemical Commercial Company, Iran's top exporter of petrochemical products, and will be loaded on board the VLGC Sam Russ at Assaluyeh port.
Price details were not known, but sources said it will be delivered on an ex-ship basis.
Traders said SK had occasionally bought Iranian LPG last year, such as a cargo comprising 33,000 mt of propane and 11,000 mt butane from PCC via tender for September delivery.
The Panama-flagged Sam Russ was made available again after it was released on May 3 from a near three-month arrest by Indian customs at the east coast port of Haldia on suspicion of carrying an Iranian LPG cargo, after completing bank guarantee payments.
"I heard that Sam Russ has been in Assaluyeh some days ago," one shipping source said. Platts vessel-tracking software cFlow, showed the VLGC still at the Iranian port.
The 1993-built Sam Russ, owned by Dubai-based Penta Ocean Ship Management and Operations and with a gross tonnage of 42,539 mt, had also carried Iranian cargoes for another South Korean LPG supplier E1 Corp. around May and July last year.
Prior to the May fixture for Sam Russ, the last time a South Korean buyer loaded Iranian LPG was in January, for a 44,000 mt cargo from Assaluyeh aboard Gas Beauty, shipping sources said. Shipping sources said the lifter of that cargo was E1, but the company denied this.
E1 was possibly the first buyer in Asia to have bought LPG from Iran in May last year, after an eight-month pause. It purchased around 170,000 mt of mixed LPG cargoes for loadings between May and late-August last year, shipping sources said.
SOUTHEAST ASIA
Meanwhile, Siam Lucky Marine -- a unit of Thailand's Siamgas -- is loading a 13,000 mt parcel on board the Senna Princess from Kharg Petrochemical Co. at Kharg Island terminal for a Southeast Asian destination, sources said.
Siam Lucky Marine is also loading a 44,000 mt cargo from PCC at Assaluyeh aboard the VLGC Schumi, with the vessel bound for Southeast Asia.
Before this, Siamgas had regularly taken Iranian cargoes to China, where it has a 200,000 cubic meter underground LPG tank in Shantou port and also operates the Zhuhai LPG terminal in southern China's Guangdong.
But as in recent months, most May-lifting cargoes, totaling 216,000 mt, are destined for China, the sources said. The May liftings are similar to levels seen in recent months: 200,000 mt in February, 190,000 mt in March and 220,000 mt in April.
Alpine International has chartered Gas Jenny to load a 44,000 mt PCC cargo from Bandar Imam Khomeini, or BIK, this month, to China, sources said. Alpine has also fixed a 44,000 mt PCC cargo from Assaluyeh and BIK on board the VLGC Alpha, and a similar cargo from the two ports on the Gas Jasmine.
China's Jovo Energy, which has an annual term contract with National Iranian Oil Co., is loading a 44,000 mt cargo from Assaluyeh and BIK on the Gas Crystal.
The Gas Beryl is loading a 44,000 mt NIOC cargo from Assaluyeh, also bound for China.
Buyers in China have access to around 10 vessels to enable them to move Iranian cargoes, sources said.
Traders had said that Iran had been selling to China at discounts as deep as $40/mt to the Saudi Aramco Contract Prices, FOB. Platts assesses current FOB Persian Gulf discounts around single digit levels.
But with more interest emerging from other potential buyers, Iran might not be ready to sell at much cheaper levels any more, one North Asian trader said.
"When selling conditions are good, such as is for the Sam Russ cargo and the market is good, they have no reason to sell to anybody cheaply," the trader said. "But if buyers have no access to ships, and demand is weak, while the quality specification is not good, then they'll have to sell to China cheaply."
On top of these shipments to Asia, three smaller vessels -- the 5,000 mt White Pearl, the 5,900 mt Black Pearl and the 3,600 mt Liberty N, also call at Assaluyeh three times a month to load a total of 50,000 mt for deliveries to Iraq under term contracts, shipping sources said. --Ramthan Hussain,
Source:
http://news.chemnet.com/Chemical-News/detail-2321045.html