Edwards Lifesciences has received regulatory approval to sell its third-generation Sapien 3 transcatheter aortic heart valve in Europe.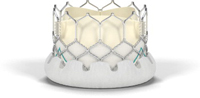 Edwards Lifescience's Sapien 3 could be used in a broader range of patients than earlier TAVR products introduced internationally.
The news comes shortly after its rival Medtronic ended Edwards'TAVR monopoly in the United States after FDA approved its CoreValve device there.
The breakthrough,however,has thus far failed to help lift the firm's stock,which at 2:23 ET on January 27 was trading at$66.87,2.82%below the previous close.The company's stock reached a high of$109.75 in October 2012.
According to Zacks,Medtronic's U.S.approval of the CoreValve could spell trouble for Edwards,potentially slowing its revenue growth rate."While analyzing these factors,we fail to see any significant catalysts that could drive Edwards'shares in the near term.Subsequently,we downgrade the stock to Underperform,"noted Zacks.
The Sapien 3 features a fabric cuff surrounding the valve frame designed to reduce paravalvular leak.Two first-in-human feasibility studies support its efficacy in accomplishing that objective.
Review the history of medical implantable devices from heart valves to transcatheter valves in a session at MD&M West from February 10 to 13 in Anaheim,CA.
The device is the only transcatheter heart valve capable of being delivered using a low-profile 14 French expandable sheath,which may reduce complications.The Sapien 3 can be implanted via transfemorally,transapically,or transaortically.
Not yet available in the United States,the Sapien 3 is the focus of a clinical study known as Partner II.
Source:
http://www.qmed.com/news/edwards-launch-sapien-3-europe