While China's economy has expanded at a record pace over the past decade, the country's economic success has come at a serious environmental cost. Coal-fired energy plants, minimally-regulated factories and large numbers of vehicles with lax emission standards have led to poor air quality in some major Chinese cities. In the past few weeks, cities like Shanghai and Beijing have seen record levels of air pollution. Measures of fine particulate matter (PM2.5) are occasionally as high as 40 times the recommendations provided by the World Health Organisation.
To combat the problem, many have taken to wearing surgical masks. Such masks are so common that models have been forced to wear them at fashion events, such as the recent display shown on the right, which took place in Nanjing. Surgical and N95 respirator masks are selling so fast in China that they are outstripping supply, selling out in stores across the country. The efficacy of surgical masks in combating smog, however, is limited as they were not intended to filter out particulate pollution.
According to The New York Times, air pollution is the fourth leading factor behind preventable deaths in China. In 2010 alone, air pollution from outdoors is estimated to have led to 1.2 million deaths in the country. In total, researchers estimate that Chinese pollution has robbed its citizens of 25 million years of healthy life.
Since the Chinese government maintains a rigid grip on social media and traditional news outlets, information about air pollution in major cities has been downplayed for many years. However, the winter season has brought record use of coal and oil-fired heaters, driving up smog significantly.
On Reddit, one user in China reported that a single week of breathing through a mask in Shanghai led to a visibly clogged filter. The filter, manufactured by 3M, shows the extent of airborne particulates that currently plague some far-eastern cities.
On Reddit, users recommended that people in major Chinese cities use air filters rated as N100. That said, limited budgets for many Chinese citizens have led to some innovative solutions. In some cases, city residents only have access to basic cloth or paper-based filters. In other cases, residents have been spotted wearing full respirators. Surplus gas masks have also been used by some residents, giving these hazy cities an otherworldly look.
While regulatory bodies typically do not test such filter masks, they do clear devices intended for medical applications.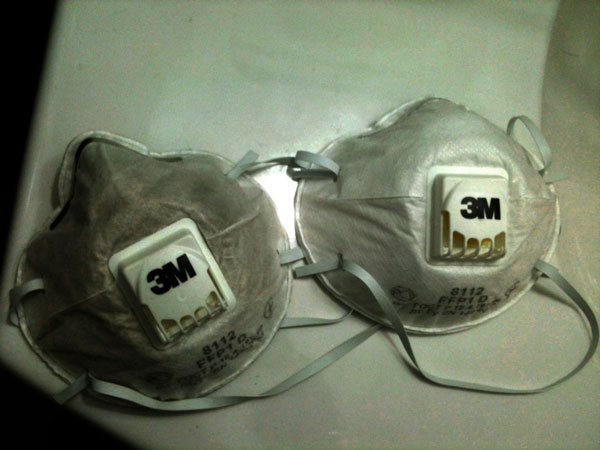 A user on Reddit posted this image to Reddit, claiming that the 3M mask filter on the left showed visible particulates after one week of breathing through it.
Source:
http://www.qmed.com/news/record-air-pollution-china-drives-sales-surgical-masks-and-respirators